Zuks at the EaglePart 2 - Sunday's RideWith Drew Huber Photos by Tim Justice, Chris Robbins and Drew Huber
Sundays ride was to be a shorter day, as everybody wanted to head home at a decent hour. Mike, Hal and Jason all headed home that morning leaving only Chris, Tim, James and myself to go wheeling. While I was gassing up a member of the Middle Tennessee Trailrunners stopped by in a Toyota pickup and asked if he could tag along. The MTTR is a local club that works hard keeping these trails open since most are on private land. They also do a great job every year hosting the Rosser Rendezvous trailride.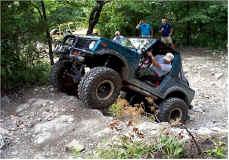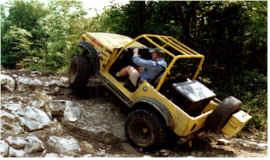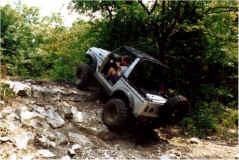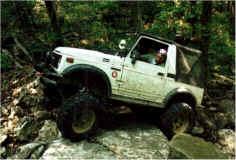 The ride for today was to be back up the trail we started up late Saturday afternoon. The trail is a long climb that is nonstop rock gardens. This is one fun trail as the rocks and ledges just keep coming, nothing too extreme but you have to stay on your toes as you can get hung up real easy. We came upon an optional ledge that we decided to try and man we had a blast. Everyone made it up and Chris even drove down it. From here we made our way over to the "Chute" a narrow uphill wash filled with big rocks along with a 4-foot ledge near the top. Tim and Ken chose to take the "Waterfall" which is another trail running right beside the "Chute". Tim made an impressive climb up what looked to be an impossible rock ledge that gives this trail the name Waterfall.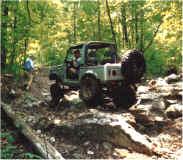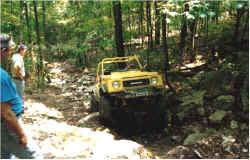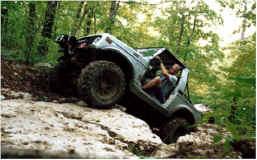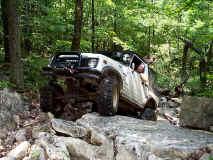 From the top of "Bald Spot" we headed back up the trail we had run down the previous day. Now all the ledges that we had dropped off of the day before had to be climbed. What a ride, there was still a lot of mud on the rocks making for a really interesting climb. Once we made it to the top of Stairstep we took the easy trail back to gravel road for a quick exit back to the motel to load up and head home. Another prefect day on the trail with some of the best folks you could every ride with. I know I?m looking forward to the next ride at Monteagle!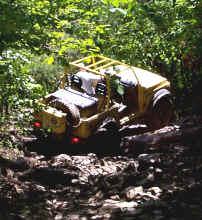 08/11/10 15:27
[trails/footer.htm]