Read Time:
3 Minute, 15 Second
Look… I'm in Moab! After one rather long 700+ mile drive in a Samurai that had only seen a couple of miles since the build up, I was in Moab, ready to finish the build. A quick look at our camp, and home of the big ASA chili dog cook out and raffle. Ahh, time to relax and check out the other Zuks. (I borrowed the wheels and Tires from Pam over at Petroworks! That's nice!)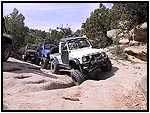 The first full day out, I passengered as Brent would be arriving sometime later that day. So we gathered up a bunch of Zuks and headed over to Lower Helldorado. Here we see Tim Walters in his nearly spotless Grand Vitara or "G-Vit" that he drove all the way out from New York.  He reports that it was much nicer driving out in the G-Vit then it was 2 years ago coming out in his Samurai pulling a trailer!
Chris Meredith's very clean Long Wheel Base Samurai is seen here showing off a little flex.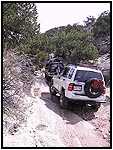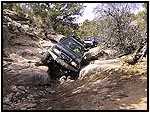 Jon Riggs, in his Sidekick Sport showed us how the IFS'ers take on an obstacle.  (Notice the rear winch, it came in handy once or twice on this trail.)
Hey Jon, what's the crunchy sound? Actually I think he made it through without damage.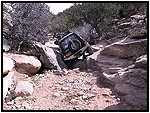 Chris showed off how well a Trail Tough front Wrangler spring conversion and rear coils work on a long wheel base. With a 1.6 liter 16 valve, Klune and all of the other goodies, he was going all over the place taking silly lines that the shorter wheel base Zuks avoided.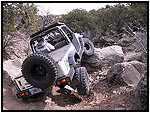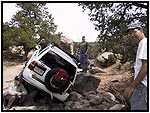 We aren't sure why Tim (lower left) is smiling in this picture as he just dented up his nice "G-Vit".
Here is that same obstacle from the front. Kind of a screwy line, but it did work pretty well for him. We ended up with a bunch of big guys pushing on the passenger side to keep from taking any more damage to that side of the vehicle.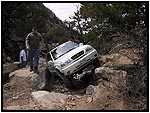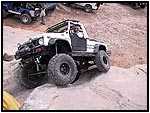 Here Chris is seen playing on the first obstacle into Upper Helldorado.
We passed on Upper as the IFS rigs were not going to be up to the task, and we had a few folks there that were rather new to their Zuks. So after playing around a bit, we headed back towards town, but we didn't get far when we got a call on the CB that Tim's front housing on the "G-Vit" had blown apart. Sure enough, it was in many pieces! It blew going down a simple hill. Guess it had enough as Tim had actually wheeled the stuffin' out of the vehicle, and had already done several trails earlier in the week. I was sad to see the breakage, but now I had a passenger for the rest of the week! 🙂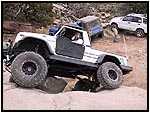 We had set up with Trail Tough to pick up a 4.16 t-case, a Z-link and a front bumper. I sure was happy to locate the good folks from Trail Tough when we returned to camp to discover that they had in fact brought all of the goodies! In the picture to the left Brian from Trail Tough is showing me the easy way to align the holes in the Mighty Kong. He also showed me the easy way to pull out my old (very dead) Z-link with just 2 hammers, and that worked great!
The second day, I got to drive my first trails in the new rig. We started off with some easy stuff, Gemini Bridges and Metal Masher.
It's a little hard to tell, but that is a huge natural bridge. Actually it is 2 natural bridges that we parked on.
Had a quick bite to eat.
A little slick rock on the way over to Metal Masher.
08/11/10 15:38