Read Time:
2 Minute, 51 Second
Click Here To Visit
with Brent May
Mud Mash 2005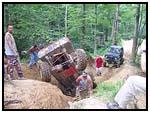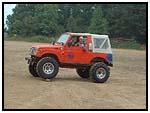 What do you get when you combine the Bedford Boys 4×4 Club, some of their friends from neighboring states, 4×4's, rain, plenty of mud and great trails? You get the Indiana Mud Mash of course!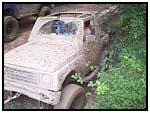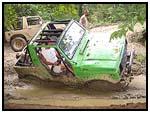 Held every year in late August since 2000 at Haspin Acres ORV park in Laurel Indiana, the Indiana Mud Mash has slowly become a great, late summer event for those looking to get together with old friends, or make some new ones. Enjoy some awesome trails, and add yet another event to a summer full of wheeling fun.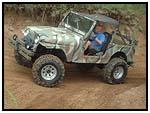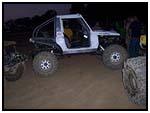 The Indiana Mud Mash was the brain child of Nick Sipes back in 2000. Wanting an informal, late summer event closer to home, Nick and a few of the other members of the Bedford Boys decided that Haspin Acres would be the perfect place to hold this event. Haspin Acres offers plenty of trails, from mild to wild. Some rocks, lots of bottomless mud holes, steep hill climbs and even steeper descents, ravens, dirt track, and a host of other obstacles. The nice thing about the trail set up is that there is something for everyone and you can usually all stay on the same trail while finding it. Almost all of the harder obstacles offer an easier line around them to give the new person, or the guy driving a rig thats not quite as modified as the next person an option to hit the trails and still have fun. Haspin Acers also offers the opportunity to camp inside the park, so those with trailers dont have to worry about loading and unloading their rigs each time they want to hit the trails.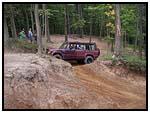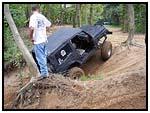 This years event was to be no exception. Hosted by the Bedford Boys, with over 13 Samurais, a Jeep, Toyota mini truck, and even a semi-stock Trooper, it was a great turn out and fun was had by all. A little rain the night before helped encourage those looking for some mud to play in, and plenty of the thick stuff was to be found all over the park. Luckily the rain also helped quell the dust in the park so the weekend trail rides were just a little more comfortable. However the weather turned out be as perfect as could be, with the rain disappearing by early Saturday morning just in time for the first run of the day.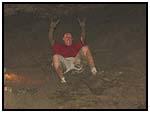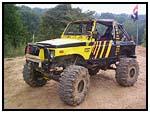 And what a run it was. Mud, hills, a little trail damage and great fun, all made the first run of the day something to be talked about around the lunch tables. After lunch, everyone was fixed, fueled, and ready to head back out for some more fun. The day was capped off by a night run in which a mud hole that everyone had cleared very easily on one of the day runs, got its revenge and claimed rig after rig that attempted to cross it in the Indiana darkness. After several extractions, some creative bypasses, and one mud swimmer, it was back to camp to relive the days adventures around the fire with food, drink, and the company of close friends. So, next year if your just itching to get a little more wheeling squeezed into your summer, keep the Indiana Mud Mash in mind and come join the fun.
08/11/10 15:31
[trails/footer.htm]