Read Time:
5 Minute, 47 Second

with Kayla HarrisEdited by her Grandfather (Papa)
Drummond Island AdventureThrough The Eyes Of A Seven Year Old.
Editors Note: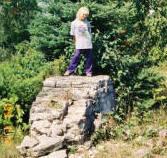 This story was told to me by my granddaughter on the way home from her first off-road experience. This story is important to all of us on many different levels.  For parents and grandparents it is important that we spend time with our families. Loving our young, teaching them about respecting others and  Mother Nature. Off-road vehicles, trail runs and the Tread Lightly program offer us the perfect opportunity to due just that. We all want our children, their children to understand nature and our impact on others and the environment. Our children and grandchildren need us to love and nurture them on the importance of family values and the protection of the environment. After all  they must have an outdoor area to enjoy when they are older. In the end when we get old who do you think is going to love and nurture the parents  and grandparents and take us wheeling? Most of the pictures are from Kayla, Terrina gave her charge of the camera for the trip. Reviewing the pictures on the many rolls of film gave us the idea for this article. You would be amazed at what is important to our little ones. One example, we asked Kayla to take a picture of the cabin. She could not get it all in one shot, so she takes pictures of all four outside walls and of course the television 😉 This story starts the night before we head to Drummond Island, Michigan for the annual Drummond Island Adventure hosted by Mud Sweat and Gears 4×4 Club of Michigan.
Grandma and Papa came to my house and stayed the night so we could get an early start on our trip. I like when they come to visit, we live far away now and I can not spend the night with them like I used to. We got up in the morning and it was still dark outside. I hate getting up so early!
We drove in the truck for a long time, Grandma had lots of games for me to play with on the trip up north. I got to see a lot of different things on the way. The Mackinac Bridge was kind of scary. Grandma had me hold the roof of the truck up so we would not fall. It was a fun game 😉 After the bridge we got to ride on a ferry boat. I got out with Grandma and stood at the front of the boat, she told me the names of all the places around us. I could see the Island we were going to and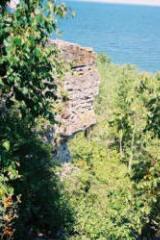 Canada. We got to to our cabin and the lady was real nice, she let me have a game and some books to use.
We went 4 wheeling the next morning, we did not have to get out of bed so early. I liked the bumpy and muddy trails the best. We stopped a lot and people came up and talked with me. One lady got stuck in the mud up to her knees, a guy had to pull her out. Papa said some people broke their truck on that trail. We went in this real long mud trail, I counted 123 frogs and took lots of pictures. Papa told me to hold on we are going in to the hard section that few had made it through. I was a little scared but Grandma told me it would be ok. We started going in fast and we got stuck on the bank, all the stuff in the truck was sliding down and I tried to pull it back up to me. Grandma told me to hang on and not move.
Papa called out  and four men had to get on the truck on my side that was up in the air. Papa was in the mud and that was funny 😉 I was getting a little scared but everyone said I would be ok.
Papa asked the men to hook up the cable on the front of the Samurai to a tree, he told me we use the strap so we don't hurt the tree. We were sitting sideways in the mud and going real slow.  We got out and watched all the others get stuck in the mud. After a while we had lunch at the beach.

The next morning Papa said the trails would be different, they were mostly rocks with a little mud. We stopped a lot again but it was ok, I met a lot of new friends. We went to a place called Marble Head and went down some real scary rocks, I held on tight and it was fun. I got to play with my new friends for a little while.  We could see Canada way out over the big cliff and water.  We got to have lunch and play in the water, I did not like the bugs and crawfish.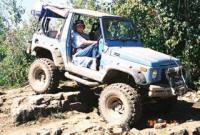 Marble Head Rocks!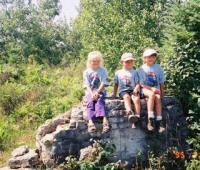 Resting Kayla age 7 resting with Ashley age 7 and Anthony age 5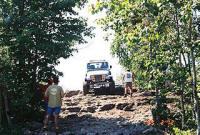 Looking up the descent to Marble Head!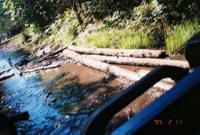 On the last night we had dinner with everyone that was on the trails. They had a raffle and I won a hat and some stickers. Papa said it was just about over and we went back to the cabin. I like the cabin the best.
In morning we packed up all our stuff to come home. We went to the Bear Track restaurant for breakfast because Papa said they have the best biscuits and gravy anywhere. Papa said he was sad to leave, everyone here is really nice.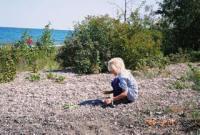 On the way home we stopped at the Sea Shell City. They had a Giant Clam and lots of shells. We watched them open some and get pearls out of them. The people picked them out of the tank with big tongs. It was time to leave. On the trip home Papa kept asking Grandma for a new blue GPS. he had been doing it all weekend, Grandma kept saying no… no.. no. Bet Papa gets one 😉 Papa and I have fun with the maps planning our trip to the next four wheeling place.  Grandma asked me if I wanted to come back to Drummond Island next year? Yes and I will not be as scared.
Pictures I thought were funny.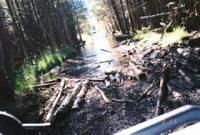 Log Jam Trail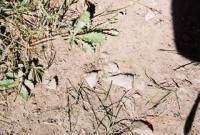 Frog Count @ 123
Pictures Papa thought were funny.
Not all Crack is Bad?
What Does A Child See?
What I liked best about the whole trip!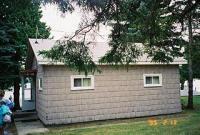 Thank you to all the people who live on Drummond Island for letting us share the island with them for a few days.
08/11/10 15:30