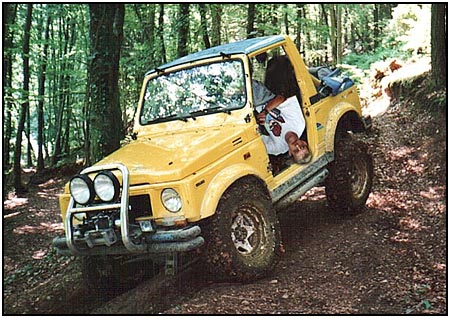 with Bill Johnston
LJ's Discovered on Disney Island!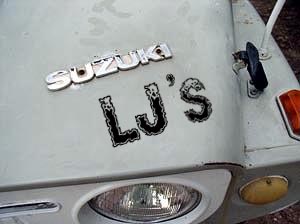 Many of us have heard of 'Disney', in Oklahoma. What most of us did not know is that it is actually 'Disney Island', a very small chunk of land at the bottom of the Grand Lake Dam.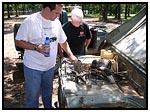 One of the largest draws to this area is Hogans Offroad Park. This is where LJ10.com brought 'L' Series Suzuki Owners together for an annual get-together. When I asked if they would mind if I showed up with my Samurai, Chris Johnson (Organizer for the event) said "Heck no! A Samurai is the grandson of the LJ, they are very welcome". Steve Caudle flew in from Seattle and Ken England drove in from Salt Lake City just for the event. Here you can see them discussing Chris' LJ20.
The LJ, or 'Brute' was introduced to North America in the early 70's. They are hard to find, but it's even harder to find owners that are willing to tackle the rough stuff with their rare ride. Last year was the first annual meeting, held in Colorado. This year they split it up into two locations. One for the pacific northwest (Liberty, WA) and one for the midwest (Disney, OK).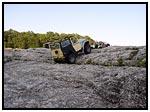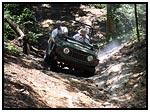 Disney has a lot of variation in the trails so you don't get bored. From simple trails to nasty hill climbs, through the woods as well as up the rock, it had something for everyone. I was really impressed by the nimble abilities of the 40 year old Suzukis. They did better in the heat and humidity than some of us 40+ year old drivers…  It's also amazing to note the LJ's only run two stroke motors. It did keep the bugs away though.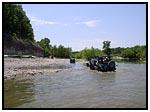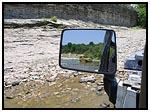 Although I drive a Samurai, I asked if I could tag along. Those of us that have wheeled with the bigger rigs know how it feels to be the 'little guy'. Driving a Samurai amongst the LJs made my rig the 'big rig'. That felt very different. But these guys made me feel welcome and that made the weekend. The nice yellow 1972 LJ20V(van) in the mirror to the right is owned by Phillip Tweedy, he has owned it since 1979.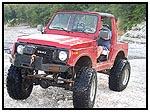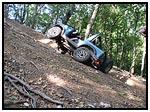 There were other Samurais there like the red one driven by Marty (and his son), and everyone had fun, but I couldn't get over the way the little 2 stroke motors got the LJs through the trail. They are light enough to bump over most obstacles, even with the open differentials that most were running. Chris brought a Samurai along with his LJ20. Unfortunately the Samurai couldn't make the same hill that the LJ had just done a few minutes before. (Ok, Chris' LJ has a welded diff…)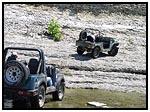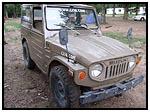 Most of the LJ's I have seen pictures of (and most of the Samurais on the road today) run soft tops. It was good to see a few hard top LJs make it to the event. Sleepy is a brown LJ20V model owned by Dave Smotherman (Smuz). This was one of three LJs he brought to the event. It runs a stock 360cc engine and four speed transmission. He also brought a black LJ10 that had more tricks than any of the rest. It was running 33×15.50 Swampers, Toy PS, a high steer system, drop shackles, on-board-air, YJ springs up front and disc brakes at all four corners. He also ran a 1.0 ltr engine. Does the rear pumpkin look a little too small for the tires? The rear diff thought so too, as it blew up out on the trail… still cool though.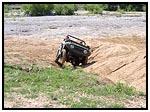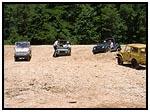 The LJs may not have the articulation that you want on the trail, but the stock Samurai doesn't either. The difference is that the lighter weight gives the LJ an advantage as it can be tossed around easier without damaging the vehicle. This is the same reason a Samurai can be more nimble on the trail than a Jeep. Gotta love it! On the left you can see Chris Johnson and William Tweedy taking an LJ through its paces.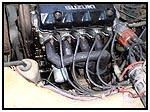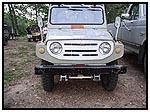 Wilson is a very stock LJ10 that showed its capability on the trail. Smuz let Steve take it out on the trails because Steve didn't have his own rig there (he flew in, remember?). Another interesting thing I noticed was a hand built header, built by Jay Smotherman and installed in Sancho (an LJ80V) that he brought down. If you want an LJ, you may have to build a few things to keep them going. There aren't many vendors out there selling parts for these things.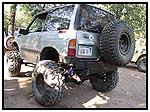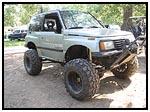 Shane Smotherman drove an 89 Suzuki Sidekick at the event. It was very capable, only breaking a few parts out on the trail. But those parts were fixed there at the park thanks to Russ Hogan (Owner of the park) and his shop equipment that he makes available to those that need it for repairs.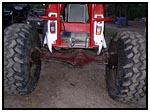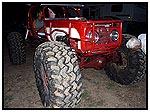 Russ knows his way around every inch of the park, and he constantly shows it by wheeling throughout the park all the time. He built his current vehicle to make short work of just about any obstacle out there. Although it looks like it may have some Ford Bronco in there somewhere, it is a 126″ tube chassis running on Unimog front (steering) axles. Thirty inches of ground clearance (22″ under the pumpkins) and a 200:1 crawl ratio makes it perfect for anything he can throw at it.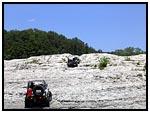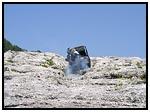 The LJs were very impressive, and the drivers were equally as memorable. A great bunch of guys (some more crazy than others) and some wonderful wheeling made for a weekend I won't soon forget.
Thanks guys.
08/11/10 15:37