Read Time:
2 Minute, 6 Second
With: Terrina Harris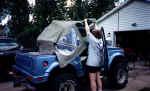 It is official! The tear down has started. We have the Samurai in the garage and that was no small task in itself. We had to make room for the truck by getting rid of all the old parts. All of the parts we collected over the years were sold on E Bay. I hope the lift that was removed found a good home. I have been married to a mechanic for a very long time but I have never used the air tools. I have removed a lot of  parts with help and hand tools, but I was a bit surprised when Larry handed me the air impact driver. "What am I supposed to do with this?", he grinned and set back on his seat and told me to start anywhere… it all had to go. So he sets there and takes pictures letting me figure it out on my own, some help he turned out to be. I put on the gloves and started taking off bits and pieces. Started at the rear of the truck after supporting it with jack stands. Removed the tires and dissembled the brakes and the axle. At least I know what the parts are called.
It looks like there may be a slight delay on the rebuild? Like any project there can be problems, we are waiting on the YJ springs to arrive. We hope to have them before the next issue. The good news is that other parts continue to come in. The front ShrockWorks Bumper is in the garage as well as the Door Straps and Clicky Starter Fix from Zuki Creations. The new Sport Cage and Aluminum dash will hopefully be here this week.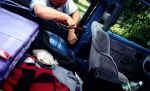 Ain't afraid of no hammer!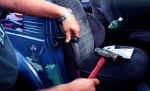 Caliper removal.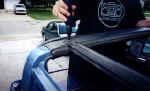 Off go the Revolvers.
Spacers are next to go.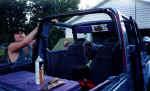 Slide hammer action
Shown without the light kit installed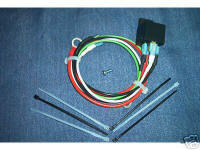 No more Click… Click.
Aftermarket4x4.com: 94 Tracker Rear Ring and Pinion
The Admirals Arsenal:
.Petroworks:
(800)952-8915
New Aluminum Dash
Interior Panel Kit
 ]]>ARB USA:
(425)264-1391
ARB Air Locker
Front and Rear
 ]]>
ShrockWorks
Front Bumper
(877) 474-7625]]> Samurai Salvage:
(641)751-2468
90 Tracker
Ring and Pinion
 ]]>
(877)-789-8547 YJ Lift Kit Hybrid Rear Axle Spidertrax:(800)286-0898 OEM Front Axle Repair Kit   Zuki CreationsStarter Fix Kit Doorless Straps Kit
07/24/2010 08:19