Read Time:
2 Minute, 16 Second

 with Bill Johnston
Stretched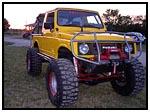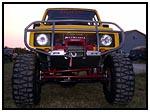 This 1987 Suzuki Samurai is straight out off of a true zookaholic's dream sheet. Wayne Fling, out of Shawnee, Kansas, has put together a truly eye-catching, truly wheelable work of art. We caught up with him at the 2006 ZookiMelt in Attica, and he was very happy to share his Zook for a little photo time.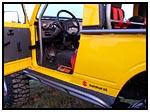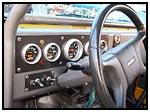 The first thing you notice (aside from the striking yellow paint) is that the body has been stretched a full 11″ behind the front doors. But he didn't stop there. The dashboard has been replaced with a slick aluminum unit outfitted with a full compliment of Autometer gauges. Another cool feature, also great for survival out on the trails, is the unique internal/external cage. It even allows for the use of the soft top.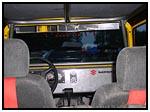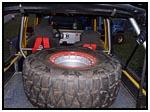 The interior is set up for two. The rear area has been modified to hold the spare. Like the other four, it is a Nitto Mud Grappler 35/14.5/15 mounted on a Bart beadlock rim. The rearview mirror looks a little different, but that is because it is a racing component designed to let the driver see EVERYTHING out back. It makes it easier to keep track of those on the trail behind you.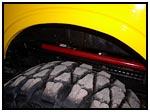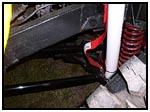 The front suspension is a coil-sprung three link with panhard bar. The rear is a Spidertrax Quarter Elliptical system and there are Rancho 9000 adjustable shocks all around. When I went poking around the rear suspension, I noticed something that at first seemed very strange. Wayne has mounted his High-Lift jack against the frame, over the left rear tire. He says it is easy to get to and I admit it looks pretty slick.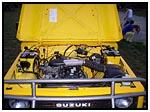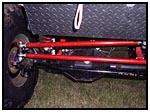 The engine compartment has it's share of goodies. Starting with the 1.6ltr engine, it also has a Calmini header and a Toyota power steering system. It feeds power through a Track/Kick 3spd Automatic transmission and transfer case. Then it passes through a Samurai (Petroworks) GRSII transfer case. Yup, dual cases! That makes the transfer case(s) ratio 8.9:1. The front axle is a Sidewinder with high steer arms, and the rear is a full floating axle, all from Spidertrax. Both axles are stuffed with 4.62 gears, LockRight lockers, Warn hubs and Spidertrax hub bolt upgrade kits.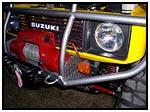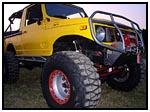 Like everything else, the front bumper is custom and it makes a nice home for the Ramsey winch. It does well to protect the whole front end.
The rig is not just a beauty queen…  He wheeled it all over the Badlands at ZookiMelt, and then he took it to Disney Oklahoma the next weekend.
08/11/10 14:10