Read Time:
2 Minute, 31 Second

 with Bill Johnston
A Super Samurai!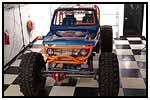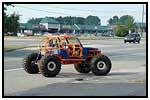 Darryl Jones and Brian Cole are hard core 4×4 enthusiasts who wanted to build something that no one else had. They also wanted something that would represent the high quality of their shop while climbing just about anything put in front of it! They decided on the Samurai because they had previously wheeled one with great success! Another reason is because they really enjoy the ZookiMelt events and all the wonderful people who participate and put it on.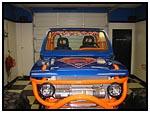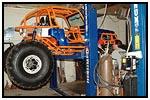 Zook's are usually known as cute little vehicles that will go anywhere you point it! They loved the go anywhere part but they wanted to show people that it could also be the Monster Four Wheel Drive you've always wanted! They use the Monster Zooki to promote their business and just have good clean fun! They four wheel all over the country, constantly looking for new trails!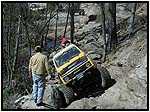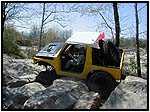 All the fabrication credit goes to Brian Cole, head fabricator at Custom Off Road, frankly because 'he does everything'. "Brian is truly a Blessing to our team!" says owner Darryl Jones. Thanks also goes out to "DOS" paint design, Columbia Coatings, and Eagle Machine for the great job they did!!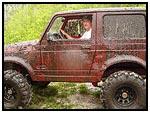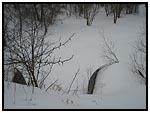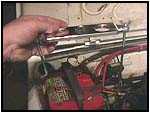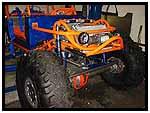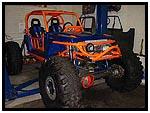 Specification Sheet:
Body:1988 Suzuki Samurai
Motor: 388ci Small Block Chevy w/Holley Stealth Ram Fuel Injection for 485hp
Trans: NV-4500 5 Speed
T-Case: Atlas II with Up-Grades
Axles Front: Dana 60 w/Chrome-moly Shafts, 5:13 Gears, Detroit Locker, Warn Drive Flanges, Custom Off-Road Differential Guard Rear: GM -14 Bolt shaved 2 inches, Disc Brakes, 5:13 Gears, Detroit Locker, and Custom Off-Road Differential Guard
Tires: 44 inch Swampers
Wheels: Custom Bead lock Rings on MRT 36 Bolt Wheels
Shocks: Fox Coil over Shocks
Winch: Warn 8000lb Winch
Autometer Gauges
Custom Built Fuel Cell and Storage Box
K.C. Driving Lights
Custom Blue Paint By:"DOS" Paint Design  Powder Coating By: Columbia Powder Coatings
RCI Racing Harness
Grant Quick Disconnect Steering Wheel
Hydraulic Steering
Custom Off-Road Rock Ram and High Steer Arms
High Angle Drive Shafts
Wilwood Master Cylinder & Custom Pedals
Currie Sway bars Front & Rear
Be-Cool Radiator w/Dual Fans
Bryan Cole, Custom Tinting & Off-Road's Head Fabricator built the Frame, Roll Cage and Doors.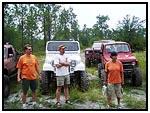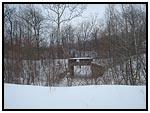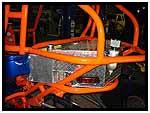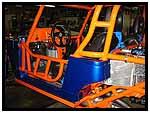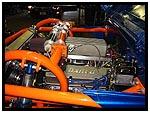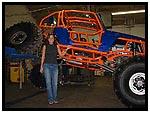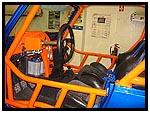 As you can see by the articulation, the engineering was well thought out and nicely balanced. The young lady in the photo to the left is Tracy. She is 5'10", and judging by the height of the rear tire in the photo it looks like it could easily set any tire on the hood of most other rigs with the rest of the tires resting firmly on the ground. She is also Brian's girlfriend and "HIGHLY OFF LIMITS!!!" says Darryl.  Built By:
Darryl Jones and the boys at Custom Window Tinting & Off-Road 110 Nashville Highway Columbia, TN 38401  Phone:931-381-5466 Fax:931-381-8185
07/24/10 08:20