Read Time:
2 Minute, 53 Second
With: Terrina Harris
iZook Guru's Ultimate Project Build Off – Truck One
I have some big plans for the Samurai! I am tired of Larry blowing up the rear end all the time so the first order of business was to call Brent at Trail Tough and order the Hybrid Rear Axle. This is going to allow us to run the larger 3rd member from a Tracker. At the same time we are going to upgrade to the ARB Air Locker for this differential. I wanted the strongest of the strong so I asked Larry to make some phone calls. In talking with Tim Lund of ARB USA he found that in 1994 the Tracker went to a 12 bolt carrier in the 3rd member. Short time later and the new Air locker is in the garage waiting to be installed. The plan is to install the Trail Tough YJ Kit and Hybrid Rear Axle. The Petroworks Aluminum Dash Kit, an ARB Rear Air Locker. To install the 12 bolt ring and pinion I have to  install 5.12 gears removing the 5.38's. One set coming from Aftermarket4x4 and one set coming from Samurai Salvage. While all this is going on it is time for normal maintenance. I am going to rebuild the front axle, cleaning and repacking the wheel bearings.
Received the Trail Tough YJ Kit. It is built like everything we have ever purchased from Brent and Linda. It is TOUGH! Had Larry lift the box and carry it to the work bench for the inventory process. Components are double wrapped in paper and plastic to insure they arrive safe from  UPS. Felt sorry for the person today, OMG that box was heavy. Going through the instructions they are very complete. With the help of friends and Larry I should have no trouble installing this kit. I am going to leave the welding to others.
We have a Fun Run scheduled at the Badlands for the mid week of October and a Fall Color tour just after that so I had to make a few emergency repairs to get the truck ready for the trail. The next pictures show how bad the rear axle bearing was. Sure am glad we got it home from ZookiMelt!
I want to take a moment and share a few pictures with you. The official "Project will not start until all all the parts are received. Take a  look at the first page of the series for a reminder of what is planned for each truck.
Lesson learned? Check your bearings!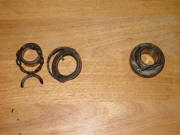 Bearing and retainer after removal.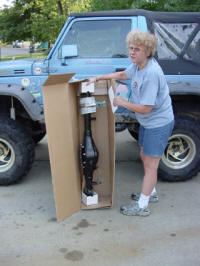 The invoice is for Larry.
I just received the new Rear Hybrid Housing from Trail Tough. Here are a few shots  Larry got before I chased him away!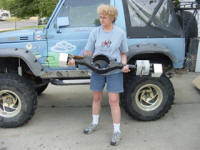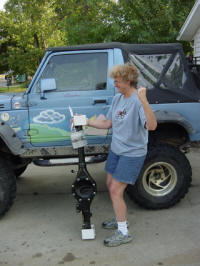 Lets see Larry break this one.
Aftermarket4x4.com: 94 Tracker Rear Ring and Pinion
The Admirals Arsenal:
.Petroworks:
(800)952-8915
New Aluminum Dash
Interior Panel Kit
 ]]> ARB USA:
(425)264-1391
ARB Air Locker
Front and Rear
 ]]>
ShrockWorks
Front Bumper
(877) 474-7625]]> Samurai Salvage:
(641)751-2468
90 Tracker
Ring and Pinion
 ]]>
(877)-789-8547 YJ Lift Kit Hybrid Rear Axle Spidertrax:(800)286-0898 OEM Front Axle Repair Kit New Seats and Install Kit   Zuki CreationsStarter Fix Kit Doorless Straps Kit
07/24/2010 08:19