Read Time:
4 Minute, 33 Second
Kickin' Vitara! Southern Style…   Waaay Southern! Edited by Bill Johnston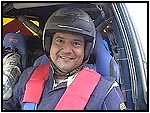 Marcos Levy, a member of Surge Team Suzuki, has once again finished the "RALLY DOS SERTES" running a Suzuki. Not only is this the largest cross country rally in the Americas, but it is also the largest off-road event in the Latin America. Congratulations! Marcos has provided us with some of the details of his team vehicles.
Last year the team competed with a 3 door Vitara. Their Vitara is loaded with a 72 HP, 1.6L/8V, SOHC engine that has been warmed over to achieve 110 HP, much more potent than stock while still adhering to FIA Cross Country rules.
Vehicle Modifications:
SUSPENSION: They swapped in stiffer springs with more double action response, KYB pressurized shocks in front and Rancho shocks in the rear. They also installed an strut tower bar linking the two front absorbers heads (like the in Grand Vitara). All the suspension mounting points were reinforced. They also used – 2 camber.
ENGINE: The EGR valve was removed. Because of the removal of the EGR valve, they installed a switch to measure the carbon monoxide level at the exhaust pipe. With this switch turned off, the ECM thinks the engine is cold and sensing a low level of monoxide (switch off) it enriches the mixture. They also removed the charcoal canister. 
Then they added high performance silicon plug wires and platinum plugs with 1 less to avoid pre-ignition, this allowed them to use up to 9 of ignition vacuum advance. They also installed a snorkel to avoid too much dust in the air filter. In order to enrich the fuel-air mixture on the fuel-injection, they made many changes. One of the first was to remove the thermostat in order to lower the engine temperature (in several conditions, the maximum temperature was 60C).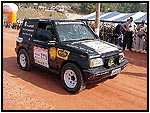 LUBRICATION: They use Shell Hellix Ultra, a 100% synthetic 15W50 weight oil and a 6 cylinder (2.5L engine) oil filter to increase filtering capability.
EXHAUST SYSTEM: After removing the catalytic converter, they used a specially prepared exhaust manifold (Carbon steel type 4) and a special turbo type exhaust pipe, with a compressed hole output system.
WHEELS: 6 pol. wheels with -1 lower off-set than the original, a stronger inner tube, Michelin LTX A/T 215/75 R15 tires.
They were participating in the TT1 category, where engine size is limited to 2.0L and there is a maximum of 2 shock absorbers allowed per wheel.
Their major competition was a Subaru 2.0, a Troller (Brazilian off-road vehicle, 2.0 VW engine, 158 HP – Worldwide Cross Country champion). They were in second place through the first half of the race, 1 minute 42 seconds behind the first driver, and 7 minutes 53 seconds ahead of 3rd place when suddenly their engine caught on fire. They finished the race in 5th place.
After doing well at the rally and other races, the team caught the eye of Suzuki in Brazil, who asked them to prepare and drive a Grand Vitara (3 door with a 2.0L/16V DOHC engine (120 HP). It is the one shown in the pictures. On this car their major concern was with suspension. Along with all the components required by FIA, here is a quick list of the rest of the modifications:
ENGINE: All original
LUBRICATION: They use Shell Hellix Ultra, a 100% synthetic 15W50 weight oil and a 6 cylinder (2.5L engine) oil filter to increase filtering capability.
SUSPENSION: They (again) went with stiffer front springs, but as of this article they had not yet to find stiffer rear springs that worked well. Front pressurized shock absorbers and Rancho's on the rear worked before, so they did it again. They also reinforced the suspension mounting point and the same – 2 of camber.
WHEELS: Original steel wheels (7 pol.) from the 5 door model, with tubeless Guianne Black Star 215/80 R16 tires.
This setup allowed them to get quicker speeds in the shortest time and high performance on low turns (80Km/h). The original engine is reliable, and allowed them to finish all of their races. 
At their last race (Rally do Caf), they ran in the TT2 category (called Super Production – actually, it is a higher category, even though the car still qualified for the TT1 category – original engines and suspension), and they finished in 4th place following a Mitsubishi Pajero Evolution, but ahead of some 3.5 and 3.0 Pajeros, a Troller 2.0 and a Mitsubishi L200 3.0.
With this new car they have also achieved excellent results in timed consistency races. This is where the vehicle must make it around a timed course through a series of checkpoints where getting there early – or – late can result in penalties.
In Brazil, they have the Regularity Off-Road competition, called RAID (Absolute Regularity on Unknown Itinerary), which is a mix of Cross Country and Trial. They use a special computer to allow for integrated navigation.
The team goal is to attract more off-road fans and "spread the seed" of this sport. Today, in all the races they compete in, at least one of their members goes to the Podium.
You can read more about the team and the Rally dos Sertes competition (all in Portuguese, sorry) at:
08/11/10 14:10