Read Time:
2 Minute, 9 Second
Page two.
Since these photographs were taken I have added Calmini's steering stabilizer/truss and idler arm bracket. I upgraded all the fasteners and performed minor grinding to fit the idler arm bracket to the later Sidekick/Tracker/X-90 platform.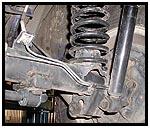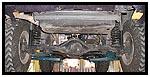 Here's what I did in the back: Cut the springs shorter, closed the last coil by heating it with a torch, and then powder coated them black.  I cut the axle shock mounts off and welded new shock mount tabs to the axle to retain short OEM shocks. The rear roll bar was installed by welding mounts to the axle. The end links were upgraded with larger bolts and bushings than those provided with the bar. The anti-roll bar contour was modified by bending. The end link bracket was welded to vehicle frame. The rear anti-roll bar was not part of Calmini's suspension lift kit. I modified, by cutting and re-welding, the bracket on top of differential to position the pinion angle nose up, straight along the rear driveshaft. Then upgraded the spherical end heim joint between the bracket and the rear A-arm to a stronger one. I also filled the exposed back end of the threaded heim hole in the Calmini A-arm by welding. This ensures it won't rust in place as these are prone to do. Then I trimmed the fenders with the sawzall.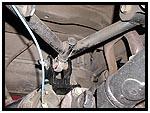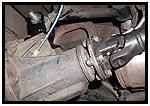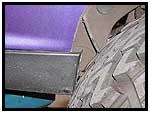 Drivetrain: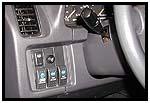 Mickey Thompson Baja Belted 30×12.50 tires were mounted on 15×10 M/T Classic II rims. ARB airlockers were installed in the front and rear. The differentials were loaded with Richmond Gear 5.83 ring and pinion sets. Calmini 4.24 Rockcrawler gears were installed in the transfer case for total crawl ratio of 90:1. The crawl speed at idle is 1 mph.
Front CV on driveshaft with driveshaft hoop.  
Engine: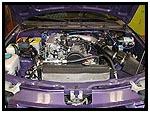 Installed a Sidekick aluminum crossover tube because it looks cooler than the plastic one, Mazda Protege intake hose, and a K&N cone. The battery is now an Optima Yellow Top.  
Exterior: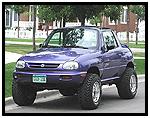 I replacedthe clear turn indicator lenses with (rare for US) amber lenses, then modified the lights with extra sockets and bulbs to be parking lights as well as turn indicators.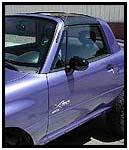 Added power mirrors. The donor car was a 1994 Mazda Miata.
Protection:
Rock rails were custom fabricated from heavy 3/16 inch steel and welded to frame
And I added a Transfer case skid plate.
Built By:
Lance K. Schall
08/11/10 14:09