Read Time:
1 Minute, 43 Second

with Jim Bova Project #2 Returns!        
  This shows why after doing a spring over conversion steering correction is needed. The Drag Link looks quite close to the spring      
  Here is the much maligned Z link.     Editors Note: This is one area not to skimp! Your life depends on a good job of engineering and safe welds. This is a piece in our mind that is beset left to professionals.
  Not the best picture but in the lower left corner you can see how now there is clearance with the spring.     NOTE: In the posted pictures showing the missing link shackles the black section should be attached to the frame and the silver to the springs. I didn't know it at the time but I have since swapped them to the correct way. Unfortunatly these pictures were taken along the way  there was no way to go back.      
  The missing link shackle. When doing rears up front you need either the M/Ls or adapter plates at the rear of the springs to allow for the added length of the rear springs.      
  Here you can see how much longer the rear springs are.      
  I put the floor jack under the frame and pump it until I ran out of travel on the jack.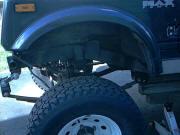 Here you can see the M/L shackle just starting to open.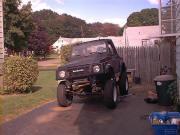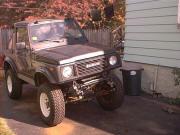 A couple more pictures showing the nearly complete conversion      
That brings us to the picture at the right. I have taken it out for a quick road test and it was a handful with no shocks, welded rear, and the Z-link. I still need to install the Ford shock towers and get a set of shocks. As soon as funds free up and the weather gets warmer I will be continuing the build up.   08/11/10 14:50:28