Read Time:
2 Minute, 5 Second

with Bill Johnston
Rockin' Rat Rod
When planning a rig, you think of a few points that would make life so much easier. Like a low COG (center of gravity), a strong, integrated cage, big tires, a strong power plant and not much sheet metal to worry about… right?
Blake Savage hit the nail on the head when he came up with his newest trail rig. He said he took inspiration from the old rat rods – low luster but high capability.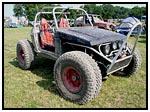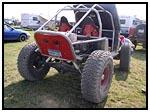 He took a Sami body, added a Track/Kick suspension, chopped off what wasn't needed and tubed the rest. He doesn't have to worry about his 37″ MTR's rubbing the fenders – because there aren't any! This allows the chassis to sit really low and it keeps the tipping to a minimum.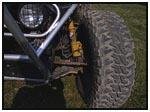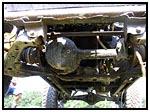 Here you can see the front coil suspension. Unless you know what you are looking at, you won't be able to tell that the CV shafts are actually from a Toyota. Blake kept the center section Suzuki when he used a front axle from a Grand Vitara. The front chunk is also stuffed with stock 5:12 gears and a locker to keep it going slow.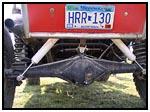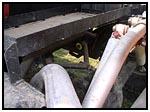 The rear axle is a stock Track/Kick unit as is the suspension itself. Also stuffed with 5.12 gears and a locker, it sports a limiting strap to keep the suspension from getting out of hand in the twisty stuff.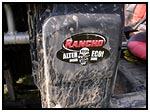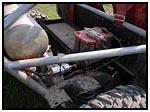 While most of the Sami tub was retained, the back was chopped for less sheet metal damage. The battery was relocated to a safer place out back. The conventional gas tank was also ditched for a spun aluminum tank tucked into the cage for safety.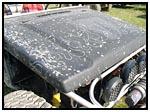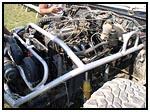 Up front you can definitely tell it is a Sami by the stock hood. But what you don't see is the Track/Kick 1.6 – caged and stashed under that hood (complete with power steering). With more engine and less vehicle you can just imagine the power this rig has on the trail!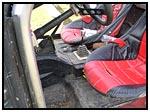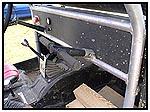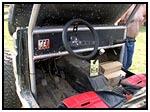 The interior has only the parts required to get the job done. The seats were replaced with lightweight racing buckets and then dropped to the floor for that lower COG. This rig has already seen some rough trails, and he doesn't baby it. It is definitely a one-of-a-kind rig, so watch for him and wave as he blows by you! Built By:
Blake Savage North Branch, Minnisota
08/11/10 14:09