Read Time:
7 Minute, 10 Second
With: Rae Champoux
iZook Guru's Ultimate Project Build Off – Truck Two
Well it has happened.  We started the work on the tin top.  We pulled the red tin top out of the garage, after we un-piled two years of stuff off it. You see, the tin top has its own story.  
We (Mitch and I) bought it from a very close friend, we drove 14 hours nearly to Virginia,  picked it up and trailered it back to Michigan, 14 hours, all in a day and a half.  We had big plans for it then, almost five years ago when we bought it. Then it sat, in the garage, for a year with nothing done to it.  When we bought it, it was just the body and the frame with no engine, transmission.  We didnt work on it at all, we still had the blue and black Zook, and we were wheelin the heck out of it, so the tin top sat. Jody, a friend of ours, that wheeled with us, who also had a zook, had gotten in an accident with his, messed it up pretty bad.  He and his wife came out of the accident unharmed, but the zook was totaled.
My husband committed an unselfish act, and sold the tin top to him for what we had bought it for two years before. Jody stripped all the good parts that were left on his soft top Samurai and put those on the tin top, making himself another truck to wheel. Jody also had an exo cage and some work done to the rear wheel wells as well. He wheeled it just for a short time and used it as a daily driver, he even drove it in the winter. Then the ultimate find for western Michigan fell into Jodys lap. He found a near mint, early nineties 2WD Samurai that was fuel injected. He jumped at the chance to buy it, and again build another soft top. Once that project was nearing completion, we again bought the red tin top, this time from Jody, who we had sold it to. J
Again, it sat in the garage. By this time, we had sold our blue and black Samurai, and bought my black Tracker. The tin top has been sitting for two years now. Collecting things around it in the garage. It doesnt have a running engine.  But we have always loved the tin top. Our first Samurai was a gold tin top, we still have in the back yard, although it isnt much of a truck anymore, just the body and frame on some chunks of wood in the yard by the fire pit. We have gotten some parts here and there for it, thinking some day we would have the time, and the money at the same time to get another project started.  That time is here. Well, not really, but we are going to make it work however we can.  
So, it is out of our garage. We start looking at it, and man, that exo cage is not holding up as good as it should have. It wasnt painted very well and some winter elements have taken its toll on it. It is rusty and it holds water.  It was made too close to the body for what we would have liked had it been our truck when the cage got put on, we would have designed it differently. It was so close, that they actually notched out the rain gutters to get it hugged up on the body. Then, there was the body lift. Mitch and I, along with my father in-law, are not 100% sold on the need for it. Looking the truck over and over, we make the bold choice to cut off the cage. Then, we could remove the body and the body lift, hopefully making the install of the Rocky Road Outfitters coil suspension that much easier. We hope. Crossing our fingers, I take a few photos, and Mitch starts cutting the down tubes that were attached to a set of old Smitty Built tube bumpers, so we can get the cage off the tin top. The cutting was done in no time. Now the hard part, how were just Mitch and I going to get the cage off?  I was all for cutting it off in parts. Mitch uses his head more than I do, sometimes, left it one big piece, that would have to be lifted over the roof and slid off the back. We called Jim, my father in-law, to come down the road and give us a hand. The three of us picked up the cage and the tin top was freed from its cage. My son, Jakoby loved having the cage to crawl all over and drive thru on his quad. J  We hooked up the tin top to the tow bar and Jim took it down the road to his house, where it will be calling his pole barn home for the next few months.
We thought long and hard about what we were going to do with the tin top. We have a set of Toyota axles on the side of the garage. How big do we want to go. Are 33 inch tires going to be enough to satisfy everything we want to do. The decision was made, stock Samurai axles, 33 inch tires with the Rocky Road Outfitters Coil Kit would get us anywhere we wanted to go on the trails and we could still drive it on the road if we needed to. So it was set. We made some phone calls, talked to some friend and vendors, Larry was a huge inspiration!  We made some orders  and a few weeks later, it was like Christmas in September!
The Rocky Road Outfitters Coil Kit arrived! This is the same kit that has been the subject of a Samurai build up in Four Wheeler magazine. Very few people we know have tackled this kit.  I had talked with Glenn Wakefield, owner of RRO and he wanted to stress to me that this kit is not for novice installers, man or women. He turns more people away from coil systems than anything else. To a novice, or to someone who has limited experience working on modifications of this magnitude the kit could be intimidating, confusing and overwhelming.  With all that being said, I was a bit nervous, but I knew that with the people I had helping me on this build I would be OK. Confused but OK.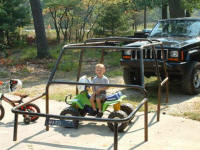 Then, looking at the boxes, I could not believe that I had let Mitch and Larry Harris talk me into a coil kit! There were a ton of pieces and parts. Most of which I had no idea what was what. Terrina and Larry Harris came over to see the un-packing of the kit. With the help of Larry, Mitch, Jim and Terrina, we made heads and tails out of the packing list and the slew of parts. My oh my were there a ton of parts. I am excited. I want the kit on now. I want to see how well it does. I want to run pink trail at the Badlands. I know it will be sometime before that happens. We have a lot of work to do.  I keep thinking to myself that this is a huge deal. The biggest thing we have ever done. This tin top is going to be sweet! And I plan on getting right in the mix of it all.
Will not be like this for long!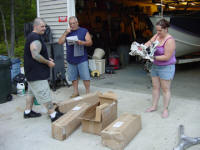 The kit comes in several boxes. Be prepared to spend some time with the inventory.
Is it my birthday?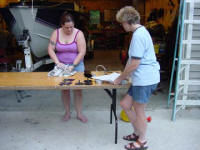 Both teams together?  One must be spying!
The Diva's Down and Dirty:
(800)286-0898
Cross Over Steering Kit
Detroit Quickloc Rear Locker
OEM Front Axle Repair Kit
 ]]>
(877) 474-7625 Front Bumper Gas Tank Skid Plate
(800)952-8915
Interior Panel Kit. ]]>
Myron at US LEGACY (928)567-3061 Monday through Friday 10:00 am to 6:00 pm (MST)
Rear Bumper
Starter Fix Kit Doorless Straps Kit  
(847) 544-1823
High Clearance Cross Member
Transfer Case Bucket
Exo-Cage]]>
07/24/2010 08:19

Rocky Road Outfitters:
(888)801-7271
Coil Suspension Kit ]]>  Zuks Off Road ShrockWorks