Read Time:
2 Minute, 20 Second
Quick Release Windshield Hinges with Jeff Pollock
For many years I wheeled with my windshield attached to the zook until that fateful day at Livingston, KY, when I endoed (rolled end over end) the vehicle forcing me to remove my windshield frame. What a major difference in visibility removing the windshield frame made. It was incredible, the field of vision increased dramatically. I began to remove the windshield more often but I hated removing all of the screws required to do it. I also noticed that the screws were beginning to strip.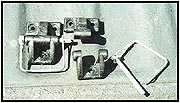 I turned to Roadless Gear for their Quick Release Windshield Hinges. These hinges are wonderful. Not only can you remove the windshield quickly but there is also an option to just fold it down too (if my extra lights weren't in the way). Now removal of the windshield frame consists of removing only 4 screws and pulling two pins. How simple is that?! Before I had to remove ten screws and hope I didn't lose any of them.  The installation of the hinges is extremely quick and easy. All you need is a Phillips head screwdriver (and a 10mm socket if you replace the screws with stainless bolts – highly recommended) and then you are ready to go.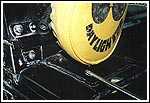 Installation:
Note: It is recommended that you do one side at a time.
1. Using the Phillips head screwdriver, remove the screws from the front windshield bracket.
2. Remove the bracket.
3. Now install the assembled hinge in the bracket's place starting with the top holes.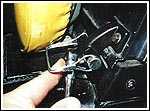 Note: If the windshield moves, you may need to apply some pressure on the inside of the windshield frame pushing towards the front of the zook to line up the holes for the bottom screw/bolt. 
4. Repeat steps 1 through 3 for the other side and you are done. It's that simple!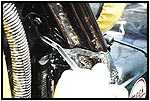 To remove the windshield frame all you do is remove the 4 inner windshield frame screws/bolts and pull the two pins and it's off.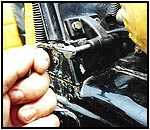 If you use these hinges with a full fold down kit, you will only have to release the two dash clamps before pulling the pins – no tools needed.
These hinges made it extremely easy to replace my windshield after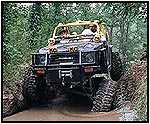 I had shattered it on my last outing  by just popping it off and replacing the windshield without fighting the roll cage. Now that it is easier to pull the windshield frame off, I pull it off for most of my trail rides and then put back on for driving on the street.
Product Source:
Roadless Gear, L.L.C. 516 Sunrise Dr Coeur d'Alene, ID 83815 Phone: (208) 660-6905 Fax: (208) 773-2253 E-mail: sales@roadlessgear.com
08/11/10 15:04