Read Time:
1 Minute, 53 Second
Daystar Winch Isolator with Bill Johnston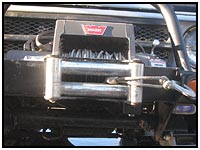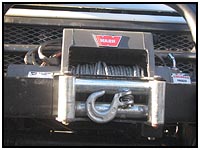 If you run a winch, you probably know a little about their quirks, but let me review. When the winch is reeled in, the hook either gets jammed up against the fairlead or it gets hooked on a convenient tow point. Both locations are solid but trail vibrations will cause the line to settle – so the hook loosens up.  Daystar came up with a simple, solid urethane isolator that not only snuggs up the hook for storage, but it also makes a great cable weight when the cable is under load pulling you out of a jam!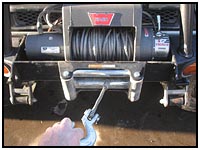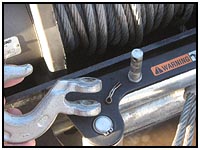 The front of the form is made to accept most hooks and the back fits into the fairlead to stay put.
Installation is as simple as removing the hook, sliding the cable through the isolator, and putting the hook back into place.
Always use a new cotter pin during reassembly. Every bend of the steel weakens the metal, so do it once and do it right.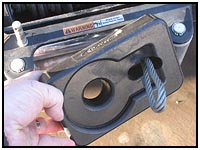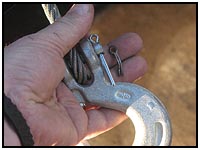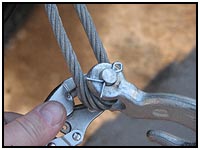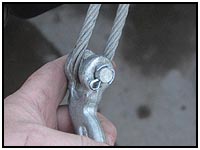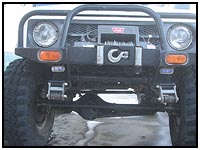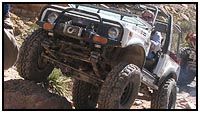 Snug the line back into the fairlead by reeling in the winch and as the hook settles into the isolator it will find a comfortable home. An 'isolator' separates an object from another object. In this case it separates the rattle-prone hook from any solid metal components.
When using a winch on the trail, it is common safety practice to lay something (like a jacket or a floor mat) across the middle of the cable to keep it from flying upwards in case of a line failure. A weight directs the energy downward. The Daystar Winch Isolator is heavy enough to be used as that safety weight. Just don't get it caught on anything as even the solid urethane can be worn through when a wire rope is cutting into it. This is one of those ideas that you have to wonder why it hasn't been around forever…  It's simple, easy to install and it serves a great purpose when in action and while stored. Amazing.
Source:
Daystar Products International, Inc. 841 S. 71st Ave. Phoenix, AZ 85043 Toll Free (800) 595-7659 Direct (623) 907-0081 Fax (623) 907-0088
08/11/10 15:06:22