Fully Machined Billet Aluminum Door Hinges with Bill Johnston
The removal of the doors on a Suzuki Samurai is probably the most common upgrade done. It takes about thirty minutes with a dremel or cutoff wheel and can be done by just about anyone. Here is a couple of links to show you how. Door Hinge Conversion Cutting your Hinges But for those that are looking for a bolt-on solution, and one that looks pretty darn impressive, consider the set produced and distributed by Zuk-N-Ovations. These billet aluminum components are computer designed and machined to fit perfectly. They are packaged with a full set of instructions. They also come with a full set of stainless steel fasteners that replace the screws that Suzuki chemically welded to the body. Ok, maybe not a chemical weld, but close enough.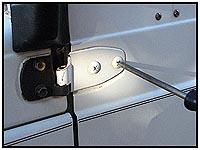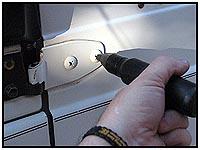 The screws have been held in place by a form of locktite that has been plaguing the zook community for decades. Here are a few different ways you can use to remove those screws.
To the left we use a standard #2 phillips screwdriver. If you can remove them like this, they have probably already been removed at least once. To the right you can see the use of an impact driver. This is a screwdriver that uses the help of a hammer to apply more force. Below, you can see the use of a chisel to nick the edge and force the screw counterclockwise. And finally we try a propane torch. The heat will liquefy the adhesive and allow the use of the standard screwdriver. Be warned though, it will still burn the paint, so be careful to only heat the screw and a little of the hinge. The hinge is being replaced anyway, so a little heat on the stock hinge won't ruin your day.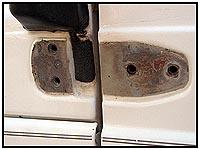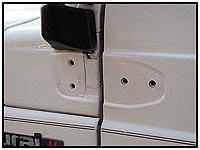 If you are going for good looks, then it would be a smart thing to clean up the area under the old hinge and then touch it up with some body matching paint. Do one hinge at a time and it will be easier to get the door set correctly as you go.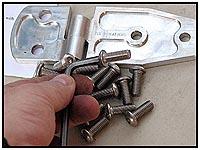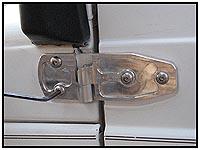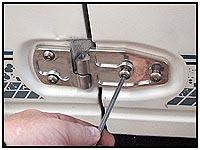 The stainless hardware will make sure that rust doesn't become a factor in the future.
Granted, it's much cheaper to convert your stock hinges with a cutoff wheel. But hey if the budget allows, this definitely looks better and it's a cool set of hinges.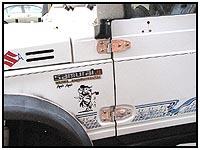 Source:
ZUK-N-OVATIONS 8395 W. Idaho Blvd Letha, ID 83636 (208) 365-5774
08/23/10 14:03