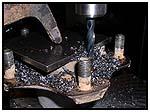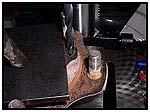 Next, we changed out the drill bit for the 'Q' bit from the kit. Using the cutting oil again, we drilled out the threads in the wheel hubs. The new bolts are not only larger in diameter, they are also longer. This adds 81.4% more thread engagement and 41.8% more cross sectional area per bolt.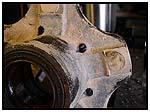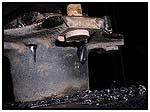 The bolt is about a half inch longer, and would bottom out at the stock depth. This means that it would be better if you just plunged straight through and out the back of the hub. Just a little pressure and some more cutting oil will let the new drill bit cut through like butter. The back side of the hub is not a flat surface, so take your time and don't force the drill. Be patient.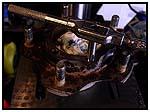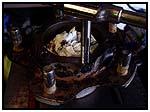 Here is where a steady hand will make all the difference. We used the tap from the kit to get the 3/8" fine thread ready for the new bolts. Here is where we tapped deep, going all the way out the bottom of the wheel hub.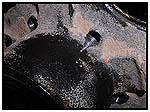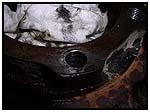 You will need to click though to see the detail in these two pictures, but you can see the threads as they go all the way through.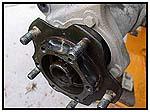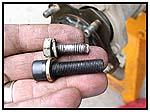 Once everything is cleaned up and you are satisfied that there are no metal shavings in or on the hubs, you can install the hubs back onto the spindle.
You can also see on the right just how much larger the new bolts actually are.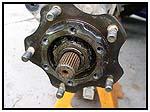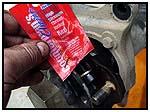 After reassembling the hub, the bolts are prepared using the lok-tite that is supplied with the kit.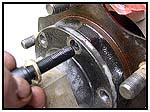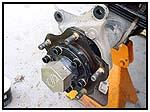 Although you are installing the bolts quickly so the thread locking compound doesn't get sticky - It will still take about 24 hours to completely cure.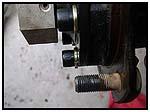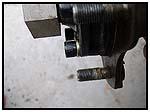 One small glitch in the installation is the size of the lock-washers. As you can see to the left, the washer sticks out beyond the edge of the hub. The brake rotor and the wheel would never fit past this. So a quick pass with the grinder leveled the washers with enough room.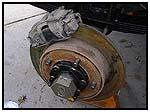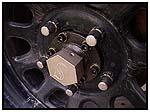 Final re-assembly is quick and easy. We now have a stronger attachment to our wheels! It also looks pretty trick. The Spidertrax site says this can only be used on Warn Premium Hubs...  I think not. Just remember to plunge straight out the back of the hub for the longer bolts!
Oh, to answer that question about the not-so-stock-looking cap on the hub flange, we had to come up with something to replace the press on caps the flange comes with... gotta admit it gets the discussions flowing after a hard day on the trail.
Source:
Spidertrax Offroadwww.spidertrax.comvoice - 1-800-286-0898 email - sales@spidertrax.com
08/11/10 15:09