Seasoned Rookie with Murph, The Seasoned Rookie.
Hello, and welcome to yet another edition of The Seasoned Rookie.  Once again we have pages and pages of excitement, insight, and a free stain-removal guide.  As you may remember, back in March Larry flew me to London for an exclusive interview with Miss Elisa Beasley.  That was such a popular article that weve decided to do it again this time in Greece with our old friend Stratos some of you may
Uh, Murph?
 Why hello, Larry (as they say at iZook.)  Whats going on?
Budget cuts again we had to scratch the trip to Greece. Sorry.
Well, thats fine, we can always do that by phone, Ill just dial Why are you shaking your head like that? 
Im telling you things are tight.  Do you realize how much it costs every time you take the iZook helicopter for your silly internet dating games? Im sorry, but youre going to have to work off a much smaller budget.
No problem. Ill just flip through the palm pilot and look up some of my celebrity connections, Im sure theres  ok, whats the problem now?
No more celebrity endorsements either.  You dont have any idea the trouble you caused with that whole well, you know.  The legal people arent happy, the owner of the resort wasnt happy, and I dont know how you got that car going so fast in reverse up the stairs to begin with. No more nonsense.
A few hours later Rae walked into my office and poured me a glass of Merlot. 
Why dont we interview YOU, Murph?
What do you mean? Isnt that a little backwards?
Not really, said Rae. Besides, a lot of people read your stuff but have no idea what youre all about. Lets do it. It should be fun.
Well, ok  But how do you suggest we do this, I asked.
Easy. A press conference. Ive got it set up for this evening. Wear a tie.
A few hours later, Rae met up with me at the iZook broadcasting center and explained to me what was going on.  Apparently she had gathered friends from many different circles together for what would be one of the largest mass-interviews known to iZook.  Some people I recognized, others I had never seen before.
Here is a transcription of the evenings questions:
Elisa Beasley, all the way from London, asks, What terrain do you prefer for your Zook driving? Sand dunes? Mud? Rocks? Pavement? Trees? 
Great question, Elisa. I would have to say that its hard to have a favorite, especially when Im so spoiled and have The Badlands so close to home they have a little bit of everything.  I would have to say that mud and rocks are my least favorite choices. Im not exactly built to be a rock crawler, with no full cages or skid plates.  As for mud, its just such a pain to clean the truck and get the mud out from everywhere.  I really enjoy forest trails and off-camber blind corners the best. With a good spotter and a bit of confidence, anything is possible.
Eric Sineath from North Carolina wanted to know,  When did you first start your four wheeling adventures?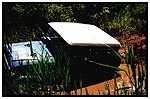 My wheeling adventures started when I was 20.  Living in the Chicago suburbs, I had a friend named Jason who was into the Toyota FJ-40 scene. He had a Cruiser named Big Blue and in this beast I was introduced to the wonderful world of off-roading. I was handed the keys on one occasion and was hooked. Ironically, it would be over eight years before I got into another 4x4.
Lexxy from Los Angeles called in wanting to know my favorite David Bowie song, and why.
Thats a tough question. Id have to rank my top two favorites as Young Americans and Modern Love. Modern love takes me back to my parents garage back in the late 80s. I had a friend named Jacqie who owned a little Beetle similar to my own. We would spend Saturday afternoons tinkering with our cars and talking about life. She was in her mid 20s and quite attractive, which of course added to the experience. Ironically she later sold the VW and bought a new red Hardtop Samurai. Young Americans?  Just a fun song.
Jim Acker Dackerly Cambron took a moment from editing the ZookiMelt 2002 video to ask a tech question: I hear that you are also a wizard at running speaker wires without resorting to punching holes in the wall or crawling through a dusty attic.  Any tips?
Ive always been amazed at how people can take such a simple process and make it difficult. The key is to just make yourself really small and run through the heating ducts with the wire tied around your waist. If this doesnt work for some reason, another idea might be to somehow attach the wire to a remote controlled car and drive it through the vents, but I should probably test that idea before publishing it. 
My Samurai's horn doesn't work. What is wrong?
Its broken. Fix it.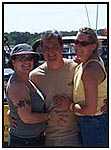 Our very own Rae Champoux, Trails Editor for Izook, had a few questions for me as well...
Tell us a story about how you got into the Suzuki scene... who got ya hooked?
Hmm.. Well, I do have to admit that my recent introduction to the Suzuki was very much unexpected. I had originally wanted a Jeep Wrangler Sahara for no other reason than they looked cool.  I went to the local dealer expecting to drive one home that evening.  I left empty-handed, shocked at how much I would end up spending for the one I liked there was no way Id take that truck through anything more abusive than a car wash!  I loved the idea though, so I decided to find one of those little Suzukis to drive around for a while. The idea was that if after a year or two I didnt hate the bouncy ride and drafty top, I would feel better about spending that kind of money on a real Jeep.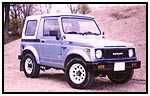 I eventually tracked down a truck I liked just outside of Sheboygan, Wisconsin. After a five hour drive with a co-worker, we returned to Peoria with a completely stock smurf-blue 88.5 JX complete with hardtop.  A few weeks later, I was asked to join a batch of guys at a place called The Badlands TD Graham, Bob & Michele Norman, John Acuff, Bill Airzuk Maulding and his posse from Springfield. 
I will have to admit that this trip was probably the most horrible experience of my life. I had no idea what I was doing, I had little or no tread left on my tires, nobody with me to share the pain, and a batch of unforgiving guys who would not let me pack up and go home no matter how many times I tried weasel out.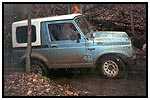 These guys and the way they treated me was the whole inspiration behind The Seasoned Rookie I feel I was incredibly lucky to stumble into a group of guys who would later become who I call the center of my Zookin Family. 
Now that you have been out on the trails for around four years now, do you see yourself making the wheelers pilgrimage to such places as Moab, Tellico, etc in the future?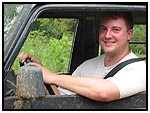 Id love to. Until recently my time has been limited to Zookimelt, and the occasional weekend run to The Badlands.  Once I get around to putting the new engine in, Ill feel a bit more confident about loading up the Zuk-n-a-half and exploring a little further.
Rocky from Central IL asks, Where are the courses that challenge a man's soul?
The answer, my friend, is blowing in the wind. The answer is blowing in the wind.
08/11/10 14:37