Read Time:
7 Minute, 48 Second

The Seasoned Rookie's Rookette:(or, My time as an honorary staff member) with Brandi, The Seasoned Rookette.
For those of you who have been faithfully following the Seasoned Rookie for the months leading up to Zooki-Melt, you know that things have been pretty intense — somehow he got the great idea to build a new Zooki in his backyard in only six weeks — the deadline being Zookimelt.
Where is Murph, you ask? Murph is asleep. After we unloaded the Zook-n-a-Half post-melt, he crawled into the garage, cuddled up against the air compressor, and has been napping ever since.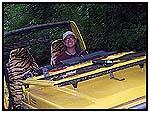 My name is Brandi. A friend of mine got married to one of Murph's friends about three months ago. Somehow we caught each other's eye and I saw the usual girly-girl things — stars, romance, floating in a rowboat in a lagoon on a warm summer day while being serenaded after a picnic lunch.  I really wish one of you had somehow warned me about what I was getting into here.. although maybe everything does happen for a reason.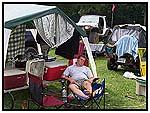 Well, many of you may have realized that the Seasoned Rookie did not get his normal article together in time to make it in the post-ZookiMelt issue. This is likely my fault as he asked me numerous times to allow him to interview me and somehow I just never seemed to have the time. So as a peace offering I decided to take it upon myself to write a true rookies perspective on the whole off-road/ZookiMelt culture.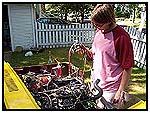 It is important that everyone is aware that I spent most all of my spare time in the 2 months before ZookiMelt helping Murph build his Samurai. I have absolutely no experience with working on any sort of automobile. I mean none. My knowledge of cars went no further than putting gas in it when the little yellow fuel light came on.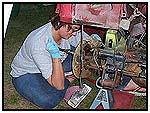 Murphs "little project" was really so huge that I didnt realize what I was getting myself in to until it was entirely too late.  Even though I realized I was overwhelmed, I stuck around because I just wanted to see a finished product no matter how much sleep I had to lose. There was no way I was going to go to this ZookiMelt thing without a truck to drive. We succeededbarely. With the help of a few friends who came all the way from Canada and Arkansas. The test drive was the stretch of I-74 between Peoria, IL and Attica, IN.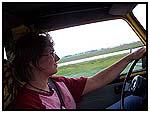 It wasn't until we were driving east on 74 towards Indiana when I realized how nervous I was — and so many things to choose from! Not only was I going to live in a tent for five days and four nights, but also living in a community with a few hundred people I had never met before,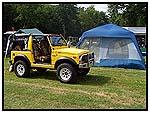 and on top of all that I didnt even know if I would be able to drive this truck that I just spent the last 2 months working on. My anxieties seemed to multiply as the miles ticked over and I couldn't help but wonder if I was in the process of making the longest lasting mistake of my life. If I turned out to be a failure at this off-roading stuff, or if I didnt get along with all of Murphs friends I had no way out — I would be stuck in a muddy tent-town somewhere in Indiana, surrounded by, well, more Indiana…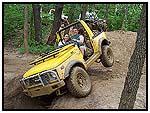 We pulled into Steam Corners Campground and by the time Murph had chosen the plot of land we would call home for the next few days, I realized that I had nothing to worry about.  Most of the IZook staff was already at the campground when we arrived and I felt immediately welcomed by each and every one. It was nice to finally put faces with the names of people I had been hearing about on a daily basis for the last couple of months, both from reading the IZook pages (which Murph kept calling my "Required Summer Reading list") and the stories he would tell as we spent many an evening and afternoon in his backyard bolting odd looking things together
One thing I really enjoyed was that the IZook Staff takes their dining seriously. Each night we enjoyed a meal better than I've ever cooked at home — Maybe THIS is why Murph was in such a hurry to get here — if all the eating was to be this good it wouldn't matter if we ever drove up a hill at all.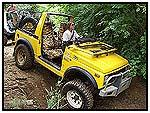 After dinner, it was time for me to become acquainted with the little yellow truck from an all new perspective — the driver's seat. At this time I have one piece of advice to share with you and if you only take one thing away from this article I want this to be it: Never allow someone you are romantically involved with (and wish to continue being so) to try and teach you to drive something he just spent two months giving birth to.  It just did not go well at all. All of my anxiety reappeared, but this time I feared that I would wreck the truck somehow, or worse yet, I would not end up behind the wheel ever again.  I had driven Murph's other car (also a 5-speed) many a mile around town without any sort of problems (other than the expected clutch-jumps) but somehow this little yellow beast was being stubborn and didn't want to play nicely at first.
There was an Izook staff meeting after our lesson, which was good timing because I think we needed to spend a bit of time apart for a while. During the meeting Murph talked to the staff about our non-adventure after which Rae offered to take me out for a spin, but at this point I thought it would be best to wait a while.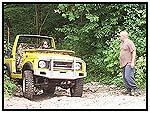 The next morning after a great breakfast the staff hopped in their Zooki's and scampered over to the Badlands Park to make sure everything was ready for the big event — marking trails and stuff he said. Once we all arrived and had a quick meeting, we broke into groups — Louie (known to many as BillyBob) rode with RayEh from Canada, and Murph and I took our little yellow truck. This was the first time I had ever been "jeeping," heck, it's the first time I've ever ridden on something worse than a gravel driveway.  I cant quite find the words to describe what I was feeling — in retrospect I suppose they directly depended on the terrain our tires rolled over (or never touched if one side was in the air) at any given momentwhich sometimes changed twice within said moment. However, by the afternoon I was feeling pretty comfortable with my surroundings.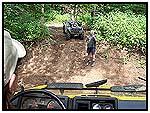 Just as I was gaining confidence and starting to enjoy myself, things got a little edgy and dread filled my insides again. Towards the end of the creek in the Rookie Trail we had to make a bypass around a deep spot where something called a "Stocker" wouldn't make it through, and the rookie trails had to be easy enough to give someone in a Geo Tracker a thrill ride but not leave parts behind. Murph and Ray were busy so Murph asked me to just move the truck over there."  I felt I had no choice — suddenly I was fourteen years old and a freshman in high school again — the only logic in my head was "what if they all laugh? What if I do it wrong?" I felt I had no choice so I squeaked out my best fake "ok" and got behind the wheel and hoped and prayed that I wouldnt do anything that would make Murph upset with me. I ended up driving the rest of that trail with Billy Bob at my side, which made me feel better. He told me, "relax, he told you to drive, if you break something  so what, it can be fixed."  I later learned that Murph talked with Ray as they rode together and expressed regret that he wasn't a good teacher — he was really looking forward to enjoying the evolution of a rookie from square one.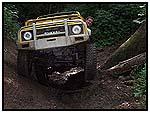 As the day passed I began to realize that this event was going to be about so much more than just getting dirty on the trails in a quirky little jeep-like truck. It was about making new friends with people from all over the continent.  It was about learning that even if I just met someone a few minutes before a trail run, I could trust him with my life because he happens to be the only one who can see exactly what is or is not under my front tires as I crawl down a 500 degree hill. It was about testing my own limits and pushing myself out of the my comfort zone. It was about realizing that oftentimes "I can" even when my instincts tell me that "I cant."
Dont believe me? Then you must not have been there. Hope to see you next year!
08/11/10 14:37