Project Bova Continues, Step III
Here at iZook.com we really appreciate Jim and his father taking the time to bring a  Samurai back to life. We are very glad they opted to share the experience on-line. Thanks Jim iZook Staff Project #2 is moving along. In this installment my Dad and I remove the old engine with the broken #3 cylinder with a engine given to me by a good friend. The engine has unknown mileage but I don't want to do anything to it right now. I'll take my chances for the time being. I do have a pony carb I plan to install.

I had started by stripping off the head and all other components to make the removal easier.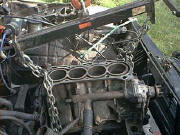 My friend loaned me his engine hoist. He had the tilt option on it that made the job a lot quicker.  
Another view of the old engine on its way out.
The old timer. Maybe it is the end of the line for it or maybe it will be rebuilt and reincarnated.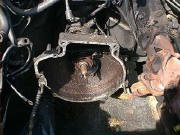 This is where we have to aim to get the new engine in. Someone on the BBS told me to put the tranny and T-case in neutral. A great tip. I know the throw out bearing is a little rusty but the budget was tight.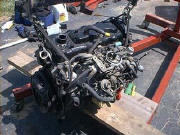 The "new" guy in town. That carb will be taken off and replaced with the pony. Hope everything else is OK.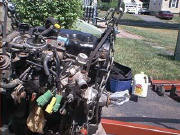 The engine being dropped in. My Dad had the idea of using those belts to host the engine with. I was a little skeptical but as always my Dad was right and they worked flawlessly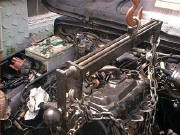 She's just about in at this point.  

My Dad moving the exhaust manifold out of the way. We couldn't get the bolts off of the pipe so we figured instead of breaking them we would work around it. It wasn't a problem.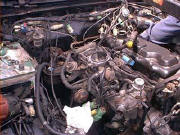 All bolted in and ready for all the little things like alternator and fan to be installed from the old motor.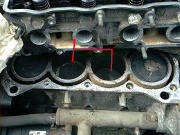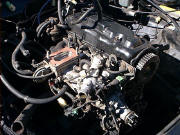 Here the mostly completed engine is in. It started right up after I found the switch that defeats the Jacobs ignition. Turns out that the stock carb works pretty good so for now I'm going to leave it on there. The valves needed to be adjusted as it was clattering and had little power. Now it is running fairly well but still needs a little tweaking.
Next Installment The kick panel rust has been covered and I sold the tube bumper and bought a used shackle reversal. I also took the 30x9.5 retreads off my HT and put them on #2. My Wife shows how to covert an old ripped soft-top into a kind of safari top.08/11/10 14:50