With: Rae Champoux
iZook Guru's Ultimate Project Build Off - Truck Two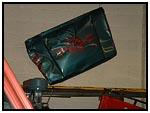 Scott Yach a.k.a. RockRat, from Rock 4X Fabrication,  is definitely one of those people who you can tell Just do what you think will be functional and look cool. and have complete faith that the end result will be wicked! I had been talking to him for a while about the tin top, and he agreed to bend up an exo cage for it.  We talked at length about what I liked and didnt like about other cages I had seen on rigs out there on the internet. He talked about the possibilities to do this and that. Finally, I just said, You know, I trust you to do it right. I will just leave it up to you.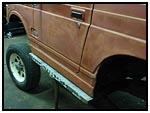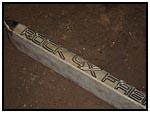 We made arrangements to bring the tin top over the beginning of June, and left it at Rock 4X Fabrication for Scott to work on. His fabrication shop is tucked away in a quaint sub-division in Kenosha, Wisconsin and you would surely zip right past it if you didnt know what you were looking for which is what we did the first trip over. It was dark and rainy when we pulled up outside the shop. Once inside I was in awe of what he had going on in there! He had the whole joint packed with fun stuff! There was work being done on a  Jeep, there was a zuk in there as well getting some finishing stuff done on it not to mention the big old Dodge Ram 3500 diesel quad cab that got dropped off shortly after we arrived that the owner drag races!! Dont let Scotts shop fool you, it might not be just about Zuks, but he is more than capable to get any job done! He has so much more than just a welder and a bottle pipe bender in there.  We are talkin big machinery in there capable of turning out some great stuff, like the Rat adapters and these great aluminum tube door hinges that I will definitely need a pair of eventually.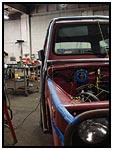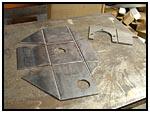 If I didnt know that Scott lived on coffee from the gas station at the end of the road and No Fear energy drinks I would wonder how he could do so much!! We pulled in tired and worn out from the drive and what was suppose to be a turn around trip from Muskegon, Michigan to Kenosha, Wisconsin all in the same night you know drive over, drop off the truck and turn right around and come back home, turned into a 4 hour talk fest in the middle of the night. We headed back towards Michigan at around 2 in the morning, had to stop when we got to the Indiana Michigan border, neither one of us fit to drive any longer. J
Well the melt came and went, the tin top project unfortunately didnt end up making its deadline, and is still not completely done, but look at this cage!! When I got the first few photos of it, I got the chills from it, and was excited to see what else Scott had up his sleeve.  I got the call a few weeks back from Scott, to let me know that I could come pick it up. He got it all bent up and wrapped the truck with it. The cool part, it can completely be removed from the truck that is if you have the man power to do the lifting. Which is what I will have to do once I have it back in my own garage. I am going to finish welding some spots on the cage that need to be completed.  But I just had to drop in on everyone and let them know that the tin top is still out there, still going and cross your fingers will be in the trails soon!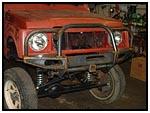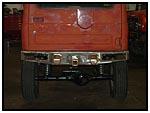 You gotta check out the sweet bumpers on my rig too. The front bumper is from ShrockWorks. This bad boy tips the scale at over 60 pounds and was about all I could do to hold it so a picture could be taken of me and it! It is made out of steel plate and looks fantastic on the front on my truck. There are two tow points, which will come in handy if we ever need help getting out of a bad stuck. J It comes with the lights and everything to attach it to the truck, I was more than impressed upon receiving it.  The rear bumper is from Zuks Offroad. Myron sent this one out to me and when I got the box I about killed myself trying to lift it, talk about heavy duty. I love how tight to the body it is. When I first started this project, I thought that I would make bumpers for myself, you know, get the experience of it all, but I am glad that I went a different route, I am more than pleased with the choices to put these on instead of what I would have came up with. Cross your fingers that it doesnt snow for us in the next two weeks so I can go pick up the tin top from 4X Fabrication and get her back in my garage. I still have a ton to do. Updates to follow. J
The Diva's Down and Dirty:
Spidertrax:

(800)286-0898
Cross Over Steering Kit
Detroit Quickloc Rear Locker
OEM Front Axle Repair Kit
 ]]>

(877) 474-7625 Front Bumper Gas Tank Skid Plate

 

Petroworks:

(800)952-8915
Interior Panel Kit. ]]>

 

Myron at US LEGACY (928)567-3061 Monday through Friday 10:00 am to 6:00 pm (MST)

Rear Bumper

Zuki Creations

Starter Fix Kit Doorless Straps Kit  

Rock 4X Fabrication

(847) 544-1823
High Clearance Cross Member
Transfer Case Bucket
Exo-Cage]]>

 

 

 

07/24/2010 08:19

Rocky Road Outfitters:
(888)801-7271
Coil Suspension Kit ]]> Zuks Off RoadShrockWorks