Click Here To Visit
 with Drew Hurber
Monteagle, TN is one of the most scenic areas in Tennessee. It has countless miles of trails open to the off-roader. Monteagle has hosted two Rosser Roundups and several Off-Road Sportsman Challenges. The mixture of terrain will fill any ones desires. Whether you heart yearns for mud, ruts, steep inclines or lots of rocks, Mounteagle has got you covered!
Saturday mornings weather was a good indication of how the day was going to unfold. We had a total of three Zuks, one Toyota, a Jeep Cherokee and two full-size trucks lined up for the ride. We decided to ride in the Cowan area due to high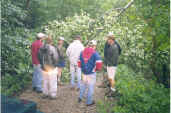 water down in the Little Sequatchie River Gorge. Not only was it foggy and raining we were not even to the hard stuff when we ran into a tree blocking the trail. After clearing the tree, we proceeded on down the "Goat Trail" to "Squirrel Camp" where we aired down and locked in the hubs. On to the next section of trail which included some ruts and a lot of mud holes. One of the mud holes has a rock in it that always seems to be just under the surface of the mud. Needless to say being the first truck through, I banged the daylights out of it, at least I stood it up for everyone else to see. This section of trail is for the mud lovers. Mud hole after mud hole keeps you on your toes. Some are so deep and rutted that there were bypasses around them . Everyone made it through without mishap except the Cherokee. While trying to maneuver around one of the deeper holes, he found a small tree with his front bumper. No damage but we had to hook a strap to him and pull him off of it.
About midway up the section of mud holes is a series of trails climbing to the top of a hill. Each trail had its own set of obstacles to overcome. Mostly ruts followed by rock ledges. I have been up and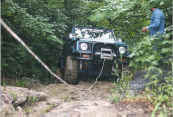 down everyone of these trails when it was dry, no problem. But today with all the rain, the ruts were super slick and the rock ledges were covered with a layer of soupy goo. After getting about 3/4 of the way of the main trail, I was hung up on a ledge. Instead of winching, I opted to back down and come up the right side trail. The Yota and the Cherokee had just went up with no problems there. Did I mention that the Cherokee is open front and rear? Well, right at the top is a set of two ledges spaced out exactly the same distance as my wheelbase. I bounced and bounced tryingto hop up on both ledges at the same time but was only going side to side. After about four or five attempts, I told my wife Donna that I'd better pull the cable before I brake something. Well, I had to give it one more try and then it happened, "SNAP"! sounded just like a front axle letting go. It turned out to only be a front body mount bolt but out came the winch cable.
These trails are fairly narrow with plenty of brush to scrape your rig. Along on the ride was JR.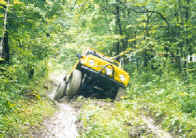 Brasher in his freshly painted Samurai. Wrong trail for a new paint job! JR. took it all in stride and did real well considering he was open front and rear and was still running stock R & P and a stock transfer case at the time. The next tough section came up quick. You had a choice of two trails leading to the top of yet another short climb. The one on the right has a deep rut that is off camber that throws you right into the bank. Body damage to be had here! Both the full-size rigs tried this trail and paid the price. Everybody else took the left trail that was one long rut with a bad hole near the top. The Yota and the Cherokee had to winch, but not the Zuks! Both Mike and I walked right up with a little play of the throttle, love them lockers. Jr.'s approach to this obstacle was simple...GAS IT AND GO!
After winding down a long and steep downhill section full of loose rocks, we stopped for lunch. We all decided to proceed onto another section of ledges and short climbs. When we got  to the

first set of ledges it was determined that it was going to take way to long to get everybody through and out of the woods before dark. After getting all the trucks turned around we took a short cut out by crossing the railroad tracks at the entrance to the Cowan tunnel. We did encounter the biggest obstacle of the day here. A large piece of earth moving equipment was sitting right in the middle of the trail leading to the tracks. It took a while but we finally got everyone around it. Timing is important when crossing the tracks here. This set of tracks is very active so be careful if you attempt it. From here it was a easy ride back to pavement and to the motel.
  08/11/10 15:27
[trails/footer.htm]