Sundays weather was a lot better, the sun had broke through and it was warming up nicely. For
the ride today,we had the same head count as  shy one of the full-size rigs. We headed out to the "Gulf" as it's known locally. It's basically a river gorge than can either be wet or bone dry. It all depends on the weather. I can tell you that you don't won't to be down there during flash floods as you can see many places that the water line is a lot higher than the average 4X4.
We originally were going to run it south to north but due to high water we turned around went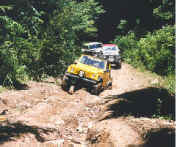 back out of the gorge and went in at the north entrance. From where you air down and leave the pavement it is a little over a mile to the bottom. you loose about 700 feet of elevation in that mile too. It's a steep and narrow trip down filled with loose rocks and a few off cambers. Once at the bottom, you basically follow the rivers path downstream. There are several creek crossings and the big river crossing that can be real deep sometimes. Mike and I have been down there many times and it's always fun. You get such a variety of terrain, mud, rocks, ruts and combinations of it all.
We reached the "House of Prayer" which is a block building in the middle of nowhere. You have to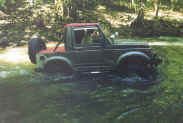 have a 4X4 or ATV to get there but they still hold services down there. Since everybody wanted to head home before dark, we turned around and headed back the way we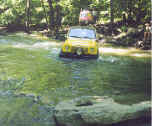 came in. The long uphill section coming out of the gorge was way more challenging going up as opposed to down. The loose rocks meant that unless you were locked up, you didn't stop until you got to the top! Once we made it to pavement, it was no time and we were back in Monteagle. It's hard to beat the terrain that Monteagle offers, everybody had their fill of every type of wheeling. So until next time.........Which by the way, is not until hunting season is over. A lot of the land is open courtesy of hunting clubs, so lets respect our fellow outdoorsmen.
--Drew Huber
08/11/10 15:27
[trails/footer.htm]