with Bill Johnston
Power from John's Foreign Engines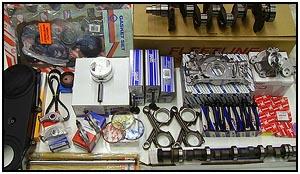 When assembling the Stalker project we realized that power was going to be the key to this build. We wanted the outer look to be reasonably stock, but we also wanted to be able to 'kick it' on the highway and surprise folks that took it's small size and  reputation as a lightweight for granted.
John's Foreign Engines supplied us with a very complete rebuild kit that would almost double the horsepower.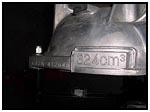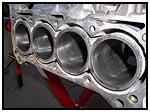 We started with the larger of the two versions of the 1.3ltr blocks. Suzuki produced the 1298cm3 and the 1324cm3. We had the block tanked, the cylinders bored .020 over and then honed to clean it up. Then we started assembly.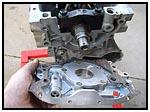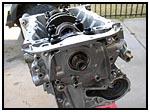 The factory service manual will take you through a total build step by step, so we aren't looking to do that here. But a few tips...  Make sure you know how to use your torque wrench, and really use it to get the specs right. And to protect the cylinder walls from unnecessary scratches, use a couple of pieces of fuel line on the rod bolts as you slide/tap the new pistons in place.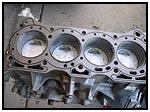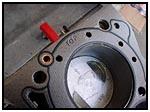 One of the most common mistakes is the placement of the head gasket. Make sure all the holes line up and the word 'TOP' is visible. Many times these gaskets are installed upside down, and that will block off important oil channels which will lead to oil starvation and a seized head.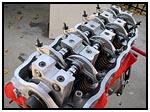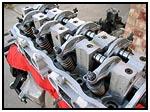 We cheated a little. When we had the head tanked (cleaned), we also had the machine shop assemble the head with the new parts from the JFE kit which included replacing the valve guides. It was an easy decision as we also had them machine the valve openings (valve job) to match the new valves. They left the valves loose so that we could do the final adjustments when we installed the head.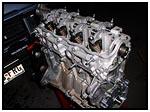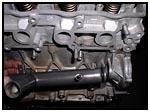 Bolting the head on and applying the correct torque is very important because it is very easy to over torque and strip the threads in the block. Been there, done that and learned the hard way many years ago...
Another tip - The water pipe has a new o-ring. Use plenty of lube so that you don't pinch the seal as you install it.
Also included in the kit is a new Weber carb and a new Pacesetter header. We will get more into these parts during the tuning as we get it running in the vehicle.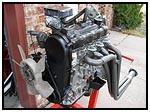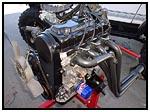 Although this is probably the most complete kit out there, you will still have to add your favorite brand of oil filter, plugs and wires. We also added a set of Dodge motor mounts for strength.
With the engine built, the next step will be to install it and break it in. So keep an eye on this build as we surprise a few folks out on the road.
Source:
John's Foreign Enginesjfe@pacifier.com 5813 NE Landerholm Rd Lacenter, WA   98629 Toll Free  (800) 450-3177 Local  (360) 263-6675 Fax  (360) 263-6678
08/11/2010