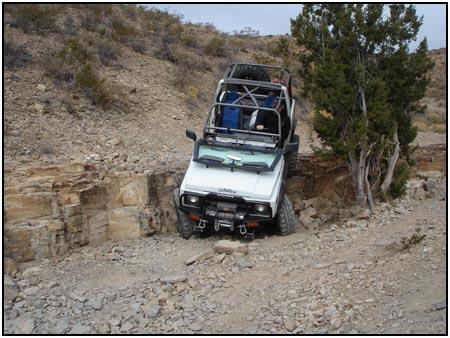 Slickrock Southern Style
Hell's Revenge Trail
Wednesday was the first day of Zukfari and the line up for Hell?s Revenge included about 40 Zuks! The weather had taken a turn for the worse with clouds and high winds making it a little chilly on the trail. Glenn Wakefield was trailboss for the day along with his fiance Jennifer in her own tricked out Zuk. They did a great job handling such a large group.
The trail starts out at Dump Bump and winds it way over miles and miles of slickrock. Lots of steep ups and downs with off cambers made up the trail. Glenn led us to the first of two optional obstacles for the day. This was a long uphill climb that follows a big notch in the rocks. the climb made for some interesting moments as even some stock rigs took on the challenge. From there it was on to Hells Gate.
Just getting down the entrance of Hells Gate was enough to make you think twice about taking this route. Dropping off a ledge followed by a long steep downhill got you to the real challenge of the day. Another long off camber climb that also followed a notch in the rocks. Glenn decided to show everyone the line not to take as he came as close to putting Zukini on her side without actually doing so. He simply backed up and drove right on out! Several rigs had problems here but after watching everyone else try, I knew the line to take. Next up was the Car Wash followed by Mickeys Hot Tub. Here Steve Shoop drove his 4 door Sidekick into the hot tub! What a show, he almost made it out the other side before his front diff decided to blow apart. He still finished the trail with minimum assistance. What an animal!
Next Glenn led us over to Tip Over Challenge. I can say now that I understand where it got its name. Vern Heywood put on the best show by standing his Zuk up and giving us all a chance to gasp for air. Vern made a great save and drove right on out, I?m just glad I wasn?t riding with him! By this time it was getting late so Glenn led us out through some fun sand dunes that everybody had fun playing on.
 ]