with Larry Harris
Spidertrax Disc Brake Double Flares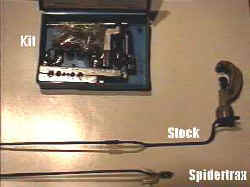 This is a basic flaring kit. Just the cost of this kit alone will justify buying the complete  Brake Line kit from Spidertrax.  If you already have this tool flaring is a breeze. Remove the rear brake line. This is the drivers side. Make sure to capture the fluid for proper disposal.  Using a tubing cutter remove the end of the tube that went into the wheel cylinder. Save the nut for reuse.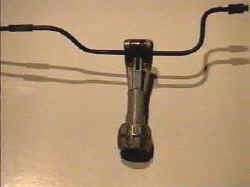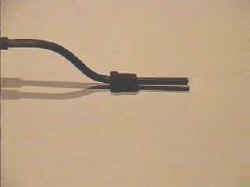 How many times have you flared a line only to realize... I forgot to out the nut back on <:-( This is a very important step. This is the first part of the double flare. In the kit you will find the little button looking tool. This puts the tube in the correct position. Align the tube in the block so it is level with the lip on the button tool.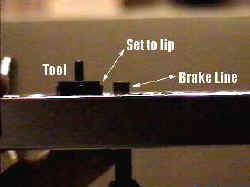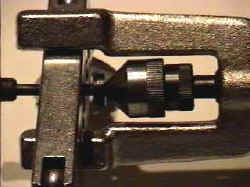 Oil the heck out of the tube and the end of the flaring tool button. Put the block in the vise and tighten away. Remove the button, oil and repeat. Inspect for cracks and admire your work!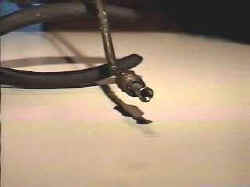 DISCLAIMER WARNING: FOR OFFROAD USE ONLY INSTALLATION OF ANY COMPONENT OR KIT SHOULD ONLY BE INSTALLED BY PERSONS EXPERIENCED IN THE INSTALLATION AND PROPER OPERATION OF VEHICLE BRAKE SYSTEMS. BEFORE OPERATING THE VEHICLE, TEST THE BRAKES UNDER CONTROLLED CONDITIONS. MAKE SEVERAL STOPS IN A SAFE AREA AT LOW SPEEDS. THIS PRODUCT SHOULD ONLY BE USED FOR LOW SPEED OFFROAD APPLICATION. ATTEMPTING TO USE THIS PRODUCT ON HIGHWAY CAN BE HAZARDOUS. 
08/11/10 15:11