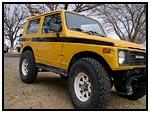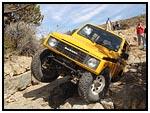 Keith Chapin rolled in from Albuquerque, New Mexico and brought his school bus yellow 87 hard top Samurai to the event. The paint is accented by a black 'school bus' stripe along the sides along with the words 'Short Bus' where you would expect 'school bus' to be. He had done a virtual lift by raising the fender openings to fit his 33" tires into the wheel wells while staying SPUA. His 1.6ltr motor gave him plenty of power to turn the 6.4:1 transfer case gears and the 5.13:1 axle gears.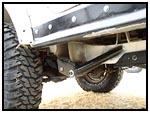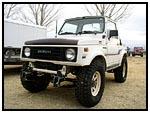 Also from Albuquerque, Heath Hislop wheeled his white 86 Samurai with us. He went with a YJ spring conversion and fabricated all the mounting components (including drop links) himself. He also incorporated a set of slide bars into the forward mounts on his rear springs. They allowed the suspension to travel up and over the rocks instead of catching on the spring hangers. He also ran a set of 6.4:1 t-case gears and 5.13:1 axle gears.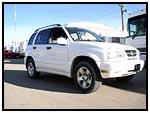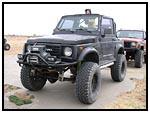 Tury Smith from Carlsbad, New Mexico wheeled his black 87 Samurai all week. He ran 4.16:1 transfer case gears and 33" tires.
Mark Bartley, a local from Las Cruces, brought a stock 2000 Grand Vitara out to see what he could do.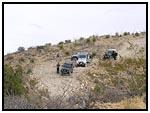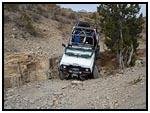 We had to travel down Big Jim to get to Amatista Ledges. This added a few miles to the runs overall length and it's enjoyment. Big Jim took us down some challenging ledges while Amatista brought us back up. One interesting note was when we had to pull a stock Jeep Unlimited down a ledge. This was where small tires and a long wheel base showed a disadvantage. The owners were really nice people, and they didn't let the 'stock-ness' of their vehicle get in the way of having a good time. It was a great chance to show how you could get a stock vehicle through the trail with a little technical driving, good spotting and an occasional tow strap.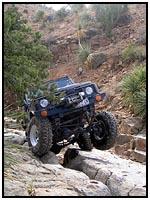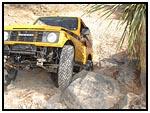 Amatista Ledges is rated as a 'moderate' trail, so many pass it by. But this can be a very technical trail if you want it to be It is a great chance to test out your ability to pick the right lines to see what works and what doesn't. One thing to note, when you are travelling with different makes and models of vehicles - not everyone will do well on the same line. We surprised many of the Jeep owners with some of the lines we were able to take.

The top of Amatista Ledges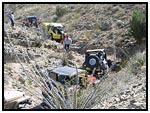 We did Cayenne Crawler on Friday.  This was a new trail that was opened last year. It is a short trail, but to get to it you must head down a moderate trail (Big Jim) and then turn onto an extreme trail (Patzcuaro's Revenge) until you hit the trail head for Cayenne Crawler. There are lots of twists that test your articulation as well as loose rock that test your nerves. The only real obstacle (one that could cause you some damage) is a ledge on loose rock about 2/3 of the way out of the canyon.
08/11/10 15:36