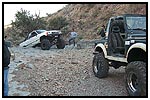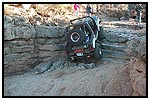 Some obstacles were rougher than others, and the strap (or winch cable) got pulled out more than once. On the right you can see Eric giving another Austin based Toyota a quick tug to get out of trouble.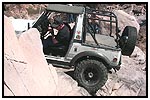 Yes, I did get some wheeling in... but very few pix to prove it. 
The rocks were unforgiving, the trails were challenging and the company of other zookers was fantastic. Everyone worked together to get the vehicles through. Well, everyone except for certain Trail Leaders. Can you believe that three days in a row the trail leaders left folks out on the trail? I can only speak from personal experience about three particular trails, but if those of us that are local to the area were not at the end of those particular groups, some folks would have been left out there with no clue how to get back. I hope that next year the host club will learn from this and pull things together a bit better. 
08/11/10 15:36