With Bill Johnston Photos by Eric Stange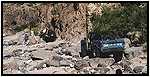 When off road enthusiasts think of rock crawling, first thing they think of is Moab. Check the magazines and you can always find an article on one of the trails there. If you live in the desert southwest, and you cant make it to Moab, then you go to Las Cruces, New Mexico. This is the home of the famous Guardian Trail. It has since been put off limits by those that guard the wilderness from the evil horde of motor vehicle enthusiasts".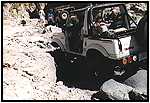 Isn't it a good thing there a many more trails! Every year in February, the trails are filled with enthusiasts from Arizona to Missouri during the Southwest Four Wheel Drive Association Winter Meeting. The trails are looked after by the Las Cruces Four Wheel Drive Club (LC4WD Club). They have their own rating system that seems easy to understand. In their mountains, a trail is easy, moderate, hard or extreme. During this trip my local club (Sun Country Jeep Club) went to play around in the rocks on one of the better known trails. This time we ran a small but ever-changing route known as Broad Canyon. It started as a hard trail, but the rains in the last few months have changed parts of it to extreme. Remember, this is one of the trails that was used in the BF Goodrich Rockcrawling Championships last year.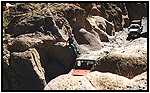 On this trip we had a CJ5, a CJ7, a Bronco, a Landcruiser, a highly modified Jeep and a Zook. Everyone was locked up front and rear and had low gearing except my Zook. I knew I would have to be helped once in a while. Many were surprised just how few times it actually happened. (Give me a YAY ZOOK!)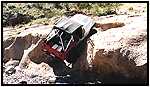 The Trail leader this day was Max Bennet from the LC4WD Club. He was driving a highly modified red and white coil sprung Jeep that could go just about anywhere. I think the only thing that hadn't been modified was the windshield! It crawled as well as it looked.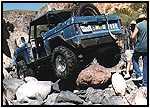 We started though the boulder field that marks the beginning of the trail. A few months ago, this section was filled with sand. We have had lots of rain in the mountains this year which washed most of it away. Now the rocks that were just tall enough to bang a differential, will thump your bumper or a shackle. For many of the obstacles there were bypass opportunities. But we were approaching the Snake Pit. The walls go straight up and there is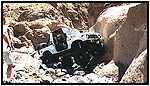 no bypass. The Bronco found a new approach to high centering a differential. He took a line that would run both sets of tires along a couple of large boulders. This worked until the left rear tire rolled its boulder away and the vehicle straddled the remaining boulder. This showed an example of why pumpkin caps can be a good thing!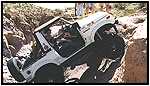 Later, when the CJ7 took a similar line, he actually split the boulder in two. The CJ5 came about halfway through and exploded a hub. Blew it into three pieces. The Zook got almost all the way through by riding the wall and then the right front tire dropped into a bottomless hole. After a quick tug, the Zook was up and out and ready to continue. The end of the snake pit had two ways out. If one looked to the right while coming through the last section, one would notice tire tracks going straight up the rock wall. Normally this would not cause alarm, because the bypass was straight out through a sandy boulder path that was easy to maneuver through. Guess what  no sand. Some of the voids between the rocks had water that the dogs could swim in. Time to hit the wall! Max, the CJ7, the Bronco and the Landcruiser made it with only a little slippage. The others needed a little help from a winch. Next we headed up another boulder field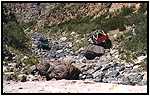 towards an area that is called A Rock and a Hard Place. This section lives up to its name. There are many lines to attempt, but few make it through unscathed without body armor. If nothing else, make sure your undercarriage is fully protected. There are also a few places here to play around while testing your suspension and your lockers. Max showed us all how easy it was when you have a rig that is set up for rock crawling.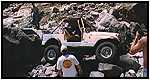 For trails like this it is recommended to have 33 inch meats, lockers and a winch. Lots of  Clearance is also nice but not required.  As I said earlier, if your clearance isnt as much as you would like, make sure you have some good skid plates. The differentials on my Zook are a testament to that. I think pumpkin caps have just moved up to a higher priority on the upgrade list. After heading up the canyon to the next area, we found a nice shade tree to rest under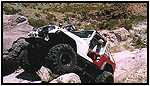 while licking our wounds. Here is where the hospitality of the LC4WD club really showed through. Although many of us needed help across some of the harder points, everyone remained helpful, friendly and very tolerant. We swapped some stories, had some lunch and then continued on.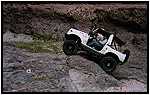 Next, we headed on up to the playground. This is an area that is wide open and filled with rock mounds and ridges. Here is where you can basically make your own excitement, depending on how you run the rock mounds. It wasnt as treacherous as some of the other obstacles because there wasnt much that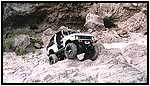 moved. Most of the loose stuff had long since moved down the trail from lots of rain. This is the last actual obstacle on the official Broad Canyon Trail. Farther up the canyon is where another trail of equal difficulty starts. It is called Off Broadway and I ran it last February with about four inches less clearance. My rear springs looked like an S and my fender flairs got their first bout of rock rash.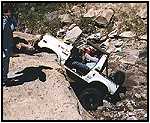 This trail will give anyone plenty of opportunity to rearrange their sheet metal. I flattened the left rear fender flair (metal) but when you run a trail like this you better be ready to leave some paint on the rocks. The Zook made it with only two tugs, and when I get lockers and gears it probably wont need assistance. If you try all of the harder lines you can make this a very extreme trail that will try even the best of the rock crawlers.  See you on the rocks!
08/11/10 15:37:05