Read Time:
6 Minute, 36 Second
Click Here To Visit
with Brandy Owen
Zuwharrie 2002
After a three hour drive to Chicago, a one and a half hour flight to Livingston, KY, a three hour drive to Virginia, and an eight hour drive to North CarolinaI finally made it to Zuwharrie where I had the time of my life!  I was able to get an interview with the founders, Jay and Roy, of this mud slinging off road event, heres what they had to say.
Brandy:  So, whos brainchild was this?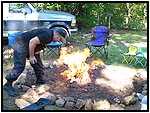 Jay:  Ive been coming to Uwharrie for about 12 years now.  Four wheeling with friends even before I got into Zooks.  The Internet is what really made this event happen.  iZook was one of the main contributors because of their locator.  Thats how I met RT and Billy Bob.  After we all met, we thought, this is kind of fun!  It just ballooned from there with the name followed by the website.
Brandy:  How long has Zuwharrie been going on?
Jay:  The first event was in the spring of 2000.  At that time, it had no name.  By fall, we had come up with Zuwharrie: Fall 2000, and it has been an unofficial semiannual event since then.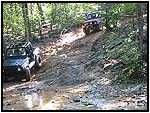 Brandy:  A semiannual event!  Twice the fun!!  Are there tentative dates for next year?
Roy:  The spring event is generally held the second weekend of April and the fall event is the third weekend of October.  Subject to change, of course!
Brandy:  So, how do people go about signing up for Zuwharrie?
Roy:  Visit us at www.zuwharrie.com Participants will find a sign up page that will put them on the list.  I really encourage people to sign up because we use this information to know how much camping room we need, how much food will be needed for the dinner, etc.
Brandy:  Zuwharrie costs $10 per person, what does that include?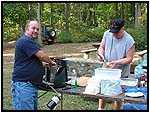 Roy:  $10 gets you your weekend of camping, dinner Saturday night.  They also get a ticket for the raffle, which is more of a bonus!!
Brandy:  Describe the trails.
Roy:  Any trail, as long as its dry, can be conquered by a stock Zook.  Each trail has a bypass around the obstacles, so you can make it as easy or difficult as you want by picking your line. However, if it rains, its a whole different story.  If it rains, even the most built truck may not make it through.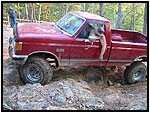 Brandy:  What would you like our readers to know?
Roy:  Zuwharrie is a Zook aimed event, but not a Zook only event.  We dont turn anyone away.  Its what makes our event different than most.
Jay:  Here, we can all come together and have a good time.  Ive been able to introduce some of my friends to some of my other friends.  Weve even tried to get more general 4×4 equipment for the raffle.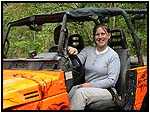 Roy:  We also want to express what a family event this is.  We dont have a lot of strict rules, just use common sense or you will be asked to leave.  Nobody has ever been asked to leave.
Jay:  We did ask someone not to run over a tree!!  We are in a National Forest!!
Brandy:  Before I move on, any last minute thoughts?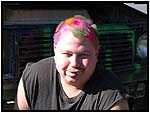 Roy:  Wed like to thank all of our supporters, not only the vendors, but all who contributed to making Zuwharrie Fall 2002 happen.  Without these people, there is no way wed get it done.  We would also like to thank all those who attended.  Without the people, it would just be Jay, Bubba, and me out here in the woods with Billy Bob cooking for us!!!
Brandy:  Well, thank you Jay and Roy for taking some time to talk with me.  I cant wait for Zuwharrie Spring 2003!!
While making my rounds, I was able to talk with some of the event goers, both first timers as well as old hands.  The general feeling from all is the camaraderie.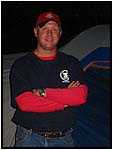 This event was Steve OBriens first. 
Brandy:  Steve, this was your first trip out here, what did you think?
Steve:  It was great!  I was amazed that people came from so far away!
Brandy:  What was your favorite thing about the trip?
Steve:  Meeting all of the people Ive met online in person.  I was able to get a lot of ideas for my Zook, and I met some people nearby who can help me build and fix things.
Brandy:  Will you be back next year, and why?
Steve:  Absolutely!  I loved coming here.  I loved meeting the people and off roading.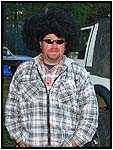 While this was a first time event for some, others keep coming back for more!!
Brandy:  Richard, how many Zuwharries have you been to?
Richard:  This is my second one.
Brandy:  And why did you come back?
Roy:  For the friendship, the people, the food
Brandy:  And Bubba, how about you?
Bubba:  This is my fifth one.  
Brandy:  And why do you keep coming back?  
Bubba:  The same reasons.  The camaraderie.  The friendships you make are forever.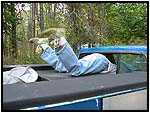 And what event is without a few antics???  It was decided that Kevin Walkers trailer would work best for the raffle.  Problem was, Kevin was nowhere to be found.  Did that stop us?  Oh, no!!!! 
Brandy:  So, tell me, Kevin, what was going through your mind when you realized that your truck and trailer were not where you left it?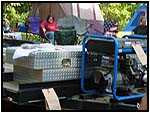 Kevin:  I knew something was up!!  With the caliber of people here, you know something like this is going to happen!  They pulled it off with class and we all had a good laugh about it.
Brandy:  How many events have you been to?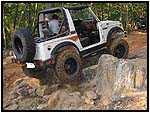 Kevin:  I have been to both a spring event as well as a fall event?
Brandy:  Any difference?
Kevin:  More people seem to attend the fall event.
Brandy:  And why did you decide to come back?
Kevin:  I live here now!!  And people give me free beer and let me eat their food!!!  No, really, Ive met a lot of great people, made many new friendships.  Definitely will be back next year!!
As I said before, friendship seems to be the common bond here.  We all love our Zooks and the chance to take them off the beaten path, but that doesnt seem to be what brings people back for more.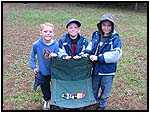 For all of those reading this article, I cant express how much you need to join us next year.  This is definitely an event you dont want to miss.  And with two events offered every year, there are no excuses!!  The trails here at Uwharrie offer something for everyone.  Its an event the whole family can enjoy without the worries of things getting too rough for children.  They have plenty of room to play and enjoy the off road experience as much as us big kids do!!  More than anything, are the people you will find here and the friendships you will forge.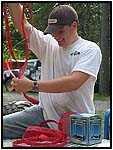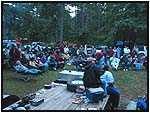 For more information about Zuwharrie or to sign up for next years event, please check out www.zuwharrie.com. Jay and Roy (zukimonster4x4@cs.com) will be happy to answer any questions you may have. On behalf of Jay and Roy and all those who attended this falls Zuwharrie Id like to thank the supporters of the raffle: North Coast Offroad, Rocky Road Outfitters, Sky-Manufacturing, Gemini Auto Care, Truck Farm, Nicks 4×4 Performance, Roadless Gear, Wheelers Off-Road, Atlantic Truck Accessories, Clemson 4Wheel Center,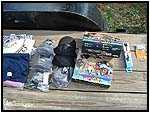 4×4 Connection, Aftermarket Industries, Hawk Strictly Suzuki, Pep Boys, Trail Tough and Mammoth Power Systems, who unfortunately were unable to make it to the event. Please support them as they have supported us.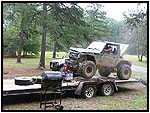 Thank you to Jay and Roy for talking with iZook and for making me feel so welcome.  And thank you to everyone who contributed to this article.  Hope to see you all next year.
08/11/10 15:29
[trails/footer.htm]