Read Time:
3 Minute, 0 Second
Click Here To Visit
ZukFari – Moab, Utah 2004with Donald RobertsPhotos by Heather & Nathan Galvin, and Jeffrey Roberts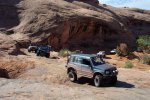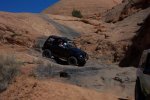 The 2004 ZukFari started off with a BANG although most people reported it sounded more like a snap or even at least a loud crack when Eric Bewley of Corvallis Oregon snapped a rear axle shaft on his sidekick before he made it to the top of the first real obstacle on the Poison Spider Trail.  His was not to be the only carnage this day.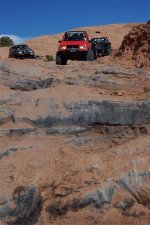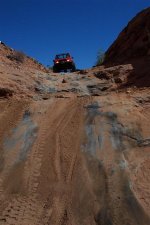 Welcome to Moab Utah, land of weird alien like rock formations that tower thousands of feet straight up and are actually old petrified sand dunes carbon dated to over 200 million years old. You will find Indian petroglyphs, frozen dinosaur foot prints, petrified tree trunks and rock that is so red you wonder if the recent Mars probes actually landed in Moab and not Mars as NASA claimed. One thing that stands out first and foremost in my mind while on the trail was the various areas where the red rocks were black with tire rubber. I found my heart skip a beat each time, one part fear that I would not make it to the top and tumble back down in some spectacular end over end Wide World of Sports roll over. Another part of this fear was just the overwhelming intimidation and shock and awe of the steepness of the inclines both going up and down.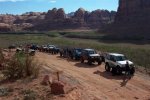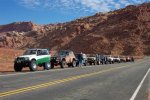 Oh how very addictive the thrill was. Let the reader consider themselves warned, there is no Zukaholics anonymous support group available to help you shake this adrenalin habit. Each morning groups of people would meet at prearranged locations and discuss location and strategy for the days trail. 30 to 45 minutes later all would leave for the days 4×4 fun.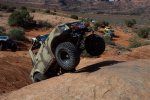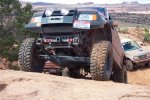 Testing your Mettle verses your Metal is what its all about. This was my first real chance to test out total suspension droop on my new Trail Tough designed (Left photo) complete YJ kit with missing links system I showcased in the April issue. By the weeks end I found I was very happy overall with the system.  The Baja Claw bias tires at 7 psi were great. Heather Galvin's (Right photo) LWB 4 door Zuk with the Solid Axle conversion preformed near flawlessly, with only minor rubbing on shocks at full flex she reported.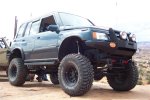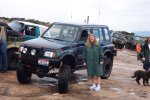 5 foot 2 inch tall Heather Galvin from Boise, Idaho personally did most of the SAS conversion on her daily driver with her husband Nathan handling the heavy lift chores and doubled as trail spotter for driver Heather. Heather won "Best Modifications" category at the ZukFari Raffle/Chili dog feed for her labors.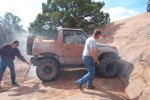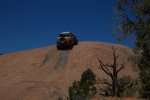 It was not uncommon to see smoke and fluids pouring out of a vehicle that had attempted and perhaps failed a peculiarly steep climb. Darrin Goodman from Cherry Valley, California just couldn't accept defeat and hit it again and again and again until he crested the top.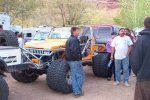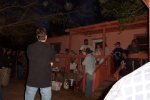 The ZukFari Chile dog feed and Raffle was fun for all. Several sponsors showed up to rub shoulders and swap tall tales with the troops and chow down on free Chile dogs. Lets hope they provide napkins next year… (major hint) The evening's raffle event was held at the Slick Rock Camp Ground. Sponsor Brent Bradshaw (Left Photo, white shirt on right) of Trail Tough brought his latest toy to wow and amuse the crowd with its wide range of suspension articulation. With 8 tires you don't need to carry a spare.

08/11/10 15:39:18
[trails/footer.htm]