Read Time:
2 Minute, 6 Second

with Bill Johnston
Truly a Trail Slayer
When Hartie Spence picked up the phone that day, I don't think he really knew what as in store for him. He was interested in getting a suspension to work and he ended up getting the chance to take home a work of art…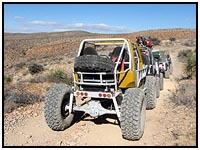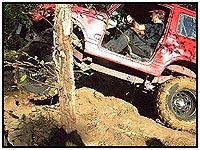 When Hartie told me he was heading to Las Cruces for the Chile Challenge, I realized I would get an up close chance to see the Trail Slayer in action.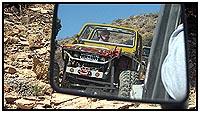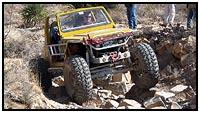 The Trail Slayer is the first, the original kit buggy built by Trail Tough Products. It was built using a full list of specially designed kits that turn a basic Samurai into an offroad beast.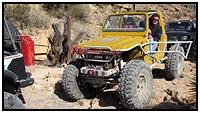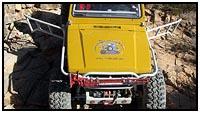 The front section is a full tube front clip, allowing for the use of the stock hood. It blends nicely with the tube door kit, and front and rear roll cages.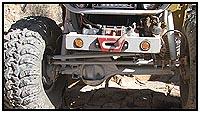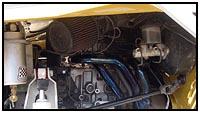 Under the hood is a 1.6ltr 16V Multiport Fuel Injected motor mated to a 3 speed auto transmission. You can will also notice that the winch feeds its line through a new frame cross member that also acts as a front bumper.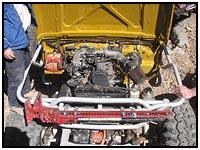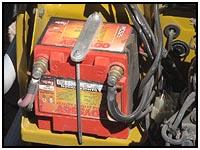 The engine compartment is sparse and clean. The electrical power comes from an Odyssey PC925 Gel Cell battery mounted sideways on a custom tray. You can also see the only addition Hartie has added since he took possession – a high lift jack.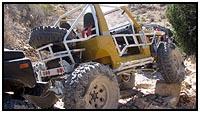 Steering the vehicle into anything that looked tempting, Hartie found that it would go where ever he pointed it. The unique tub cap made the body look like it had always been a two seater.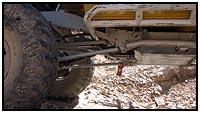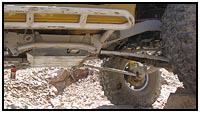 The 'Trail Slayer' Coil  Suspension and the Trail Tough Nerf Bars kept the rocks at bay. The heavy duty drivelines and skidplate keeps the 6.4:1 transfer case safe.
The axles are from Toyota, stuffed with 5.29:1 gears. The armor keeps them safe while the special accordian shaped vent plugs keep the oil inside while still providing a way for the gasses to expand when at operating temperature.
Trail Slayer Ram Assist Kit helped to turn the 39″ IROK tires. To help keep the front tires turning, the stock shafts have been replaced with Bobby Long axle shafts. The longer you look at the improvements made to this rig, the more you will find. Trail Tough really came through with this one. Good choice Hartie!
Built By: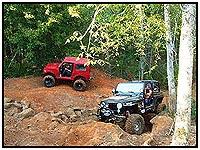 Brent BradshawTrail Tough Productswww.trailtough.com
1-877-789-8547
Owned And Driven By: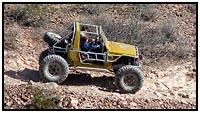 Hartie Spence Lafayette, LA
08/11/10 14:10