Read Time:
4 Minute, 23 Second

Seasoned Rookie with Murph, The Seasoned Rookie.
At ZookiMelt 2003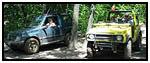 It's very hard to compare one ZM to the previous. Although the events are similar and the trails are still there, each year leaves different thoughts in your mind as you pull up the last tent stake and idle slowly through the campground, waving last goodbyes and imagining what the next year's event will present.
From the start I knew that this would truly be a typical unpredictable event. I planned to leave Peoria Wednesday at noon — I figured I'd stop in the office briefly, make sure everything was under control, then head east, trailer in tow. Of course, a seized brake caliper made an appearance at the last minute. Thanks to Figmo, TD & Laurie Graham, and my buddy Shawn the Brake Wizard, I was rolling by 2:00.
The skies were already looking a little restless when I pulled into the campsite and registered. Mini-Bob came running to greet me, telling me where everyone was camped and pointed me towards the staff area.
The Mazolla's cooked a wonderful spaghetti and salad dinner for us early-arrivals, which was a great chance to bring everyone together to swap stories of "so what have you been up to" and reminding each other of fun "misjudgments" others had made in the past events. To me, this IS the heart of the event, and I wouldn't skip staff time for the world.
We had barely finished dinner when the storms returned — reports of tornados touching down nearby didn't exactly cheer us up, but the unspoken idea that we all had each other to depend on made things a little easier to handle.
Rain was everywhere. In the air, on the ground, IN MY TENT… MY CLOTHES… MY BLANKETS… MY BED… Everything was soaking wet — an inch of water covered the tent floor and my duffel bag had decided to impersonate a sponge. Frustrated and un-amused, I took my pillow and blanket outside, wrung them out, and slept under a storage canopy.
The next morning vast webs of clotheslines were woven between trucks and poles and back to trucks again, wet things left to dry left nothing to the imagination — rumor has it that this year's ZookiMelt Video answers the question "Does the Seasoned Rookie wear Boxers or Briefs?"
The rest of the weather that weekend was perfect — save for a little rain during the night run.
The night run. Oh boy.
Traffic Jams, Search and Rescue, Flat Tires, Zookers separated from the rest of the group and "somewhere on the trail," what else could possibly have gone wrong?
Thankfully the confusion was just that — short term lack of information. With the help of Ranger Rick's Bedford Boys, instinct, and great communication skills, we were able to locate a stranded Zook ("Lost Sheep" became his codename) and lead him back home safely. Footage of this adventure (with running commentary by me) could very well appear in the Video — don't miss it!!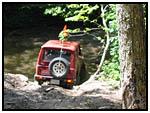 Most of my time on the trails was spent with some of my favorite trailblazers — Laurie Graham and her sidekick Daniella in a stocker hardtop, Jim and Mary Zalipski in their green Geo Tracker, Vickie & Gidget (who went as far as to name and conquer her own obstacle in the creek — RIZZO's ROCK. ) and two folks whose names regretfully escape me but I did enjoy sharing their flatbread rolled sandwiches for lunch!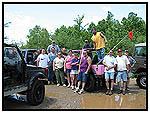 Of course there were others… and I didn't mean to exclude anyone of course — these folks just always seemed to find each other no matter where we ended up!
Overall, I feel the 'Melt was a success. We missed a lot of familiar faces this year due to other commitments and of course the good ol' economy taking a bite into our fun-funds, but of course this left time to meet new friends.
One thing that I always enjoy is checking out the little neighborhoods that sprout up around the campground — small groups forming and combining skills and equipment to cook up some great dinners (many of which I had the honor to sample) as well as a well-stocked pit crew, often working until the wee hours (much to the chagrin of some tired folks), but hey, it's part of the night time music at an event like this.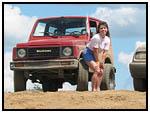 I'm very much looking forward to next year's Melt — we've got two new staff members, one of whom many of you have already met. I'm sure I speak for the rest of the staff when I say "welcome aboard," and I look forward to the new ideas you'll be bringing to the table.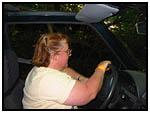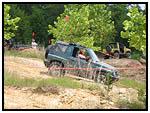 In upcoming articles, you'll meet Jim and "Mamma Z" Zalipski, two folks who were constantly mistaken for my parents, Vicki and Gidget who don't know the meaning of "my truck can't make it through that," as well as some other new faces. If you have any questions or maybe would like to be featured as our Rookie of the Month, feel free to write to rookie@izook.com!
And remember — a rookie is someone trying something new. A Seasoned Rookie comes back to do it again! Life is good Murph
07/24/10 08:19