Read Time:
6 Minute, 7 Second
Seasoned Rookie: What are you looking forward to the most at next years melt?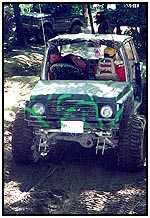 Brandy: Friends. I would ask people what they liked most about the event The trails? Mud? Water? Rocks? They all said that it was each other that made it special, and the friendships that brought them back again and again. They all liked their rigs and building trucks and stuff, but its the camaraderie that brings them back with new friends in tow.
Seasoned Rookie: Now, before you saw all this first hand, what did you think?:
Brandy: I wouldnt go as far as saying you were crazy, but maybe just a different breed.
Seasoned Rookie: (laughs) What do you mean?
Brandy: Well, you all, er, WE all ARE a different type of people I think. Ive seen some really amazing things that people do to what started out as an ordinary little truck.
*Editors Note* The Spitfire body pictured to the right was mounted on a Samurai chassis and drivetrain. To say it 'looks cool' is an understatement! It also sports an SCCA approved full roll cage. Our concern in this case was with the roll bar that does not allow enough room to protect the driver in case of a roll-over.
Seasoned Rookie: Speaking of seeing amazing things, Ive noticed an offroading magazine or two sticking out of your bag lately instead of the usual Cosmopolitan. Whats up with that?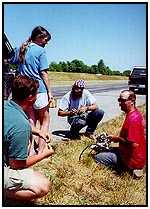 Brandy: Yeah, you caught me. I seem to have bitten by the bug I think it will be a while before I get my own truck though. I think I want to learn a little more and get a few more trails under my belt so I can get a better feel for what I want and need for my own!
Seasoned Rookie: So youve already started thinking along those lines. What do you have in mind so far?
Brandy: This is something I was going to look to my new friends for some help. Probably nothing crazy, just a modest lift and larger tires. I dont really know anything about suspension and such, but I do know that I want to keep it street legal so I can drive it around town and all. I know Im just a girly girl but I did get a little tougher over that weekend. I still want my creature comforts though, like power steering and air conditioning
Seasoned Rookie: How about some other trucks you saw at the Melt what sort of inspiration did you take home with you?
Brandy: One of the first that comes to mind is Ranger Ricks pink tiger stripe Barbie Truck. It really stood out in the crowd and of course theres a great story behind the paint job Ill leave that for Rick to share though. Of course, everyone went out of their way to see your trailer too, Murph. I think everyone there got a kick out of that!
Seasoned Rookie: Well, I tell ya, it would never have been ready on time if you didnt give up all those weekends and evenings helping me paint and sand! Im glad I was able to teach you a skill! From what it sounds like, you have quite the plan for your Kicktrack once you find what youre looking for!
Brandy: Yes. My truck will be the place to be. Ive been to the islands before and I fell in love with the whole way of living. I have some seat covers with a red hibiscus pattern and I bought one of those hula girls for the dashboard. A custom paint job with some palm trees would be great, with Jimmy Buffet cranked from the stereo. Speaking of Jimmy Buffet, anyone who knows how to get in touch with him, I think he needs to join us at next years event.
Seasoned Rookie: There has indeed been talk around the campfire about inviting Mr. Buffet to the Melt. How do you think he would react to this thing we do?
Brandy: I think hed be fascinated and intrigued by it. It would be great if he could spend a weekend partying with us and trying something new.
Seasoned Rookie: Id have to agree. I own all but one of his albums and I think Ragtop Days is a good Zukin theme song. Well, unless youre with Beanco then its "Waiting for the Explosion."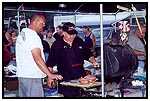 Brandy: I think he would need to show up I bet we could show him some of our warm midwestern international hospitality!
Seasoned Rookie: Now with that said, you have me thinking there does seem to be a parallel between Zukers and Parrotheads the attitudes and the personalities, creative flair and a sense of adventure, togetherness, and the unknown!
Brandy: You know, I realized something over the weekend its that everyone was so genuine. People seemed to be lifelong friends out there. I wanted to send a special thank you to everyone for making me feel so welcome on my first trip out there. A big big thank you to Bill Maulding. I wish I got to speak with you more than I did.
Seasoned Rookie: Tell me about your Airzuk Encounter
Brandy: Well, Bill Maulding was a name that I had heard before, actually just the past weekend when we were driving home from St. Louis. The Zuk was starting to overheat so we gave him a call he was willing to drive over an hour on his day off to tow our rig to Peoria and make sure we made it home safely. But here I am rambling and I realized Ive nearly forgotten someone, and that would be you, Murph.
Seasoned Rookie: Oh, Brandy, Im just writing the article. Youre doing all the talking.
Brandy: But you know, if not for you, I would have never had this opportunity in the first place, and probably would never have tried offroading or met all these wonderful new friends, and learned about this new passion of mine!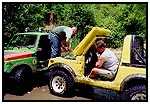 Seasoned Rookie: Its one of those things that after doing this for a few years, its always a pleasure to introduce new people to the sport. Not only to see them doing something new, but also sharing in something that we get so much happiness out of. Id like to think that at some point you might even find a new friend to introduce to our ever-enlarging circle I mean, if you remember your Zukimelt history we started off with just 14 guys, most of which are part of my original Zukin crowd. Now we have hundreds of people creating a community together.
Brandy, its been a pleasure talking with you tonight, youve shared a lot of thoughts with us and I hope to see you on the trails sometime soon.
Remember, a rookie is someone trying something for the first time. A seasoned rookie is one who comes back again and again!
Brandy: Hey Murph?
Seasoned Rookie: Yeah Brandy?
Brandy: Life is good!
Seasoned Rookie: Yes Life is Good. Thank you Ranger Rick.
Would you like to be a Featured Rookie in a future issue? Suggestions for a future article? Questions, concerns, or want to give me some cool parts for free? Drop me a line at kcmurphy72@insightbb.com
Murph
07/24/10 08:19