Read Time:
8 Minute, 28 Second

Seasoned Rookie with Murph, The Seasoned Rookie.
I thought I knew what I was doing.
 I was wrong.
So begins a song entitled "Waterfall", the story of someone doing something that seemed like a good idea at the time. So began my afternoon.
For those of you reading in the Midwest, you may recall the last weekend in February being unusually warm. After taking care of some things around the house, I went to visit a friend on her farm since I felt like fooling around with the tractors or annoying the horses.
After some obligatory wheeling in the back 40, friend Brandy and I decided to tidy up her yard a bit and move a forgotten hulk of a pickup truck to a less visible area. Wont start? No problem. I have my tow straps right here.
Now is as good of a time as any to use our key phrase of the month:
Just because you own one does not mean you know how to use it.
This is something I should have had in mind as I hooked the straps to the front of the truck. Brandy was in the pickup truck steering, and I drove my Zook.
It would have been even better if this thought passed through my mind as I made a fateful left turn down a hill.
Once we came to a stop and counted our limbs, we had a conversation that should have taken place about five minutes prior. Questions were asked. Statements made.
Have you ever done this before?

Oh. I thought at least the front brakes worked.

Hmm. You should have put it in first and let up the clutch.
As I puttered down the hill letting the engine hold me back, Brandy in the pickup didnt have the same control. No brakes, no engine, and no training. Instinctively she steered around my Zook to avoid rear ending me, and passed me on the drivers side. At about the same time the tow strap started wrapping around the front axle of the pickup truck, the Zook jerked sideways as I skidded down the hill sideways.
There are several reasons why I did not topple over in my doorless Zook sliding drivers-side first down a hill uncontrollably. They all involve superstition, religion, and other things I cannot explain.
I repeat.
Just because you own one does not mean you know how to use it.
A simple conversation could have prevented a near disaster. Imagine if something had gone wrong, but we had taken the same risks in the middle of nowhere while wheeling?
NEVER assume that anyone knows what they are doing.. All too often people feel the need to show off and put themselves and others in great danger. In a past article I wrote about being a Sophomore. A wise fool. Someone who has done it once and is a self-proclaimed expert.
There is no shame in not knowing how to do something. Thats part of being a rookie. Youre a rookie because youre trying something new. A seasoned rookie is one that comes back to do it again and learn from their experiences.
Every month Ive been introducing you to what I like to simply call the featured rookie of the month. This month, with the help of my friend Justin D(ont forget to give me credit for writing the interview for the article) Fender, I introduce to you Jesse Lee.
(Murph gives Brandy equal time to explain HER side…)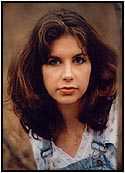 The Day I almost killed MurphyBy Brandy Owen
It was a beautifully sunny, lazy Sunday afternoon in February. Murph trotted out to the countryside in his Jeeplet for what he thought would be an entertaining afternoon playing on the farm – little did he know what fate had in store for him!
It all began when we decided to work on breaking the rear wheels free on the old VW truck. Mom and Dad have this old Volkswagen truck and the wheels in back wouldn't turn because the brakes were frozen. With a great deal of pounding, this task was indeed accomplished. Murph smiled and said "life is good."
"Even at the age of one, Brandy realized that she truly belonged in a rugged 4×4. Here she is napping in the back of her parent's new Toyota FJ-40."
The next half hour or so was spent trying to get the funny little truck to run. With a few angry rumbles, the truck sputtered to life, if only for a few brief seconds. Puzzled and annoyed, Murph abandoned this goal and decided that it's time for the truck to move, though not by it's own will. I think it was happy right where it was.
We proceed to tow the little truck up the driveway using the mighty Samurai and some sort of tow cable with hooks on the end. All is good, at least for now! We round the corner and begin going back down the hill by way of the field. Murph was chugging along ahead of me when I began to pick up speed. Fearing that I would rear end him, I steered slightly to the left. Murph looked over just in time to see me passing him by. (Oh! No! Do you see where this is going?!) 
Murph suddenly realized that I had no brakes, but it was too late! (dramatic music playing in the background) I saw the tow rope go under my front wheel which somehow caused Murph to spin around on two wheels. As the cable got tighter and tighter, we ended up in a T-bone formation and that was the only thing that stopped us. His right rear bumper was nicely tucked under my right rear fender, and amazingly there was NO damage to either truck.
After checking that all parties involved were o.k, and after surveying the situation, Murph puts me behind the wheel, AGAIN!! (One would have thought he'd learn by now!!! Heck, one would have thought I would have learned by now!!!)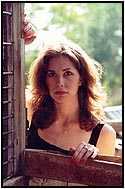 We slowly put the little truck back where we wanted her, using the clutch as our only way to stop. At last we called it a day, cheering our victory over near death at the sushi bar.
THE END
SR: Jesse, tell us a little about yourself and your truck. Any modifications at this time?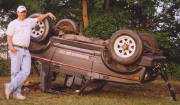 JL: I am a college grad who found a job in concrete cutting (a great field). My Zook is called "Frankenstein" due to it's being built out of 2 Sammys. 1-An '87 Special Edition, 2-an '88 non special. Frank has a 3″ body lift, a 2″ shackle lift with extender shackles on the front. A custom "I-beam" bumper, custom rack in the back, warn off-road lights, nerf bars, and a set of 30″ tires, 3 all terrains and 1 mud terrain. The '88 came with the body lift, off-road lights, and nerf bars.
SR: When was it that you knew you wanted to be a Zooker? How long have you been Zooking?
JL: Labor Day 2000 beach trip to Nags Head with the Fender family. That weekend Justin let me drive his Samurai on the beach. Then Justin asked me to Zuwharrie 2001 Spring. I have been a Zooker ever since Easter 2001 when I got the Special Edition.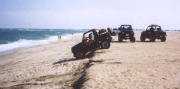 SR: Would you consider yourself "mechanically intimate" with your truck or are you more the type who puts gas in it and checks the oil every so often?
JL: Although I am not a "mechanical genius" I have pulled the tranny 3 times, taken out 1 motor, the carb has been off twice, etc… If it can be unbolted removed and replaced then I can handle it. Justin and I did manage to get my Samurai on the road and inspected within' 2 days of Labor Day, driving over 100 miles for the weekend beach run.
SR: Well that would bring me to my next question, What are your scariest and most frustrating memories of being a zooker?
JL: My scariest memory as a Zooker was watching Sam Blanton roll in front of us on "Daniel" at night at Zuwharrie then rolling again right after we got him back on his wheels. My most frustrating time is ongoing, when I got the truck, it wasn't moving, so I got it fixed and moving, and now it is not moving again, but to be fixed ASAP.
SR: How else has Zooking carried over to day-to-day for you?
JL: Since my Zook career began I have began measuring anything and everything around my by the "I can get my wheel on that" method, sometimes I test that method with my company truck.
SR: What is your favorite sort of off-roading?
JL: I like to "flex", so I really like rocks, stumps, piles, poles, etc… Anything I can get a wheel up on or drive over. Mud is alright from time to time. I really like to climb hills and sand dunes.
SR: Do you have any advice to pass on to rookies looking to be seasoned?
JL: If you can wheel with a friend do so, if you take a woman along then take toilet paper, and do not make too much fun of the Jeeps.
SR: Anything else you'd like to add for all the world to know about you or your Zooking' habits?
JL: Although I have been wheeling' I need to work on my technique. Right now it is mostly "Balls to the wall." It has been advised to go slower and try not to ride the clutch or brake. I am also willing to try and take my Zook where ever I think it will go. The Suzuki Tuesday motto is "Always an Adventure" and so far, it has been. 
Jesse has been featured in Petersen's 4 Wheel & Off-Road and can be emailed at jleesat@hotmail.com
If you would like to be the Featured Rookie in a future issue, contact Murph and we'll talk! 
Murph 
08/11/10 14:35