Read Time:
2 Minute, 52 Second
Click Here To Visit
1600 Engine Installation

Over the past few years there has been a great deal of interest in the 1600 engine swap for the Samurai. There are no modifications required to the intake, exhaust or wiring systems. You can re-use your stock 1300 manifolds, distributor, flywheel and clutch. You will need to use the 1600 starter and alternator. It is possible to use the 1300 starter with some modification to the engine block.  
You will have to install an electric fuel pump if you have a non-fuel-injected Samurai. The 1600 head does not have provision to bolt on the stock 1300 mechanical pump.  
  The oil pan on the 1600 will have to be exchanged for a modified 1300 pan if you do not have at least two inches of lift. The oil pick up tube and baffles will have to be modified on the 1300 oil pan.
Even without modification to your 1600 engine you can expect to gain 25 horsepower over the stock 1300 motor using a fully bolt-on kit. Adding a cam, header and Weber will offer dramatic power increases over a stock 1300 engine.
Can't find the parts locally Check out our spy shop page for a list of great vendors.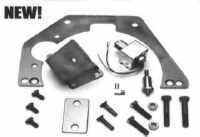 Part Number Calmini part number SS1585  
Engine From:
Cherry Auto Parts +1 (419) 476-7222
Parts included in kit:
Engine adapter plate
One motor mount
One motor mount adapter
(2) 10 x 1.25 x 40mm bolts
(2) 12 x 1.25 x 45 bolts, milled
(2) 12 x 1.25 Nylock nuts
(2) 12 x 1.25 x 70mm bolts
(3) 10 x 1.25 x 20mm bolts
Electric fuel pump
Tools and Parts:
1600cc, 8-valve motor from a Sidekick/Tracker
1600 starter and alternator
9/16 drill with drill motor
Loctite
Metric sockets and wrenches
Distributor, flywheel and clutch from your 1300cc motor
inch heater hose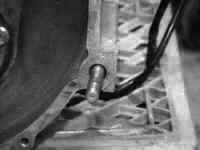 Using the nuts removed from the transmission studs, double nut and remove the studs. See sidebar.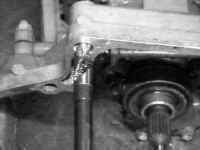 Place the transmission with the pilot shaft down on two blocks of wood. Drill the top two mounting holes to 9/16.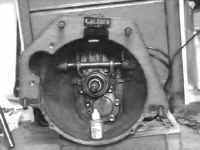 After the top holes are done lay the transmission down. Using the 9/16 drill countersink the lower left stud hole. Install the plate using ample Loctite.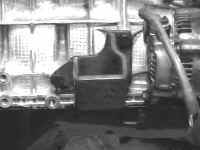 Install the new right side motor mount using hardware provided.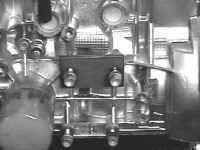 Drivers side motor mount gets a new spacer. This will remove any stress on the motor mount and insure proper alignment.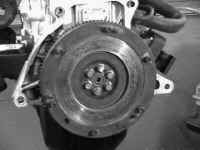 Install the flywheel and clutch from the 1300. Check out the pilot and throw out bearings, this is a good time to replace them.
If you are reusing your Samurai transmission this is the only flywheel and clutch that will fit.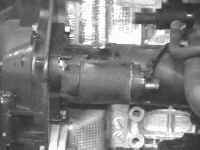 Install the transmission and G16A starter.
It is possible to reuse the 1300 starter but, you will have to do some grinding on the block.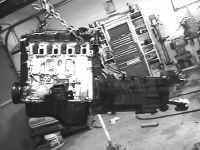 Install the complete assembly into the engine compartment.      
The clutch cable arm may have to be re-indexed.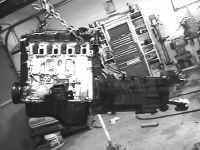 Install the electric fuel pump kit. Recheck your work, fill everything that needs to be filled and start your new power plant. This is a very easy kit to install. A good set of basic hand tools,  a helper and a little mechanical knowledge are needed. There are now several great kits out on the market. Check our spy shop page for a list of vendors.
08/11/10 15:17
[tech/footer.htm]