Read Time:
2 Minute, 6 Second

Power Steering Kit Installation
If you are running larger tires or a locker up front, power steering is a must have accessory. In addition to the installation kit you will need the power steering pump, hoses and reservoir from a Geo Tracker or a Suzuki Sidekick. Can't find the parts locally give Calmini a call at 1 800 345 3305. They have steering gear boxes in stock. For the hoses, pump and reservoir try  Hawk Enterprises at 1 888 SAMURAI.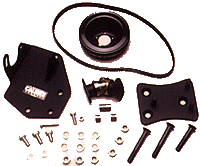 Calmini Part Number SS1580
Tools and Parts:
Metric Hand Tools
Drill motor and bits
Pickle fork
Pump, reservoir and hoses
Steering box and pitman arm
Parts included in kit:
2 – 12 x 90mm bolts
1 – 12 x 70mm bolt
2 – 10 x 25mm bolts
1 – 10 x 20mm bolt
1 – 8 x 45mm bolt
6 – 12mm nuts
6 – 1/2″ lock washers
2 – 5/8 x 3/4 spacers
1 – 5/8 x 1 1/8 spacer
1 – 1 1/4 x 5/16 bolt
1 – 5/16 Nylock nut
1 – 1/4 x 3/4
1 – 1/4 lock washers
2 – 8 x 30mm bolts
1 – frame adapter
1 – pump adapter
1 – U -joint
1 – belt
1 – pulley
Remove the stock steering stabilizer.
Remove the 4 radiator bolts.
Pull the radiator out from the top.
Remove radiator supports from the frame.
Stock rag joint removal.
Steering shaft also comes out. now is a good time to center the steering wheel.
Modify steering shaft to collapse. Drill out the two plastic pins and collapse the shaft. Heat may help this process. Do not hammer ends of the shaft.
New U joint replaces rag joint.
Drag link removal.
Ball joint removal. Sometimes you can leave the nut on loosely and tap it with a hammer and it will come loose.
Stock gear box removal (outside detail)
Stock gear box removal (inside detail)
New frame adapter plate hardware installation.
Install frame plate in the place of the stock gear box.
Install donor gear box.
Remove the small crank pulley bolts, leave the pulley in place.
Install the new serpentine pulley over the stock pulley.
Install pump adapter plate to the engine.
Belt detail.
Pump bracket & steering shaft install.
Connect drag link to pitman arm.
Reservoir & pump installed.
Completed Power Steering Kit.
Check all bolts and top off fluids. Cycle the completed steering conversion. Check for leaks and enjoy the newly installed power steering kit.
08/23/10 14:04
[tech/footer.htm]