Read Time:
2 Minute, 45 Second

with Bill Johnston
Mighty Kong from Trail Tough with Bill Johnston
The Mighty Kong is a combination skidplate/transfer case mount. It pulls everything together into a single unit that you bolt into the vehicle. The welded skidplate at the bottom provides the strength to bounce off those pesky boulders that jump up to ruin your day, yet is also easy to clean out with the spray from a water hose. I found it to be a simple installation that can be done with hand tools in about an hour.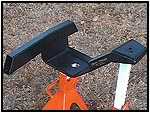 The design of the single mount keeps the two sides from moving independently, and decreases the stresses that loosen the transfer case mounting bolts. When you go to bolt this unit in, you might as well use the installation as an excuse to finally replace the gear oil. I found that it was easier to flip the case upside down and bolt the mount to the case than it was to shimmy the case around on the mount until the holes lined up. The entire component only weighs in at 12 pounds, so it is much easier to manipulate the mount than the case.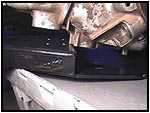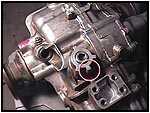 When fitting the mount to an late model (post-90) transfer case, be sure to slide it on from the front or rear of the unit. If you try and just set it down on the case and bolt it in, you will find that the webbing that strengthens the drain plug area will contact the mount and it won't fit. The photo on the left shows the webbing and the photo on the right shows how it hits. Don't try and force it, remember that the t-case is aluminum and you are trying to protect it. Don't destroy your t-case right there in the driveway. For the early model transfer case (pre-90), it will drop right into place without a problem.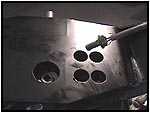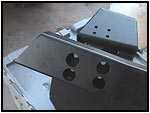 The mounting holes line up exactly. For access to those holes you must pass the bolts through the holes on the opposite side. While that sounds like a no-brainer, there is very little room for fingers. Use a deep socket and ratchet or a short extension to get the bolts tightened up. The bolt heads are protected on both sides of the t-case by recessing them into the mount. We used a 'grabber' to make it look simple, but with a steady hand and a ratchet, installation is a breeze. Use locktite to secure the bolts and then you are ready to bolt the whole thing into your zook.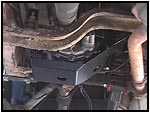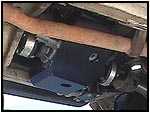 As you can see, it keeps the rocks away from the soft aluminum underbelly of your transfer case. It also stays away from the back mounting bosses for disk and drum brakes. The access ports for the fill and drain plugs allow for quick access for normal maintenance. This unique one piece design tucks up nicely between the frame rails, and allows for the use of stock rubber mounts to secure it. This is good insurance for those that take their zook off the beaten asphalt path. Source:
Trail Tough Products1031 Narregan St Medford, OR 97501 1-877-SUZUKIS(1-877-789-8547) 1-541-734-0883info@trailtough.com
08/23/2010