Read Time:
1 Minute, 29 Second

with Larry Harris
Trail Tough Fender Flares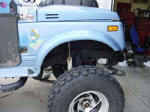 Stock Flares.
Running larger tires? Do they stick out past the stock fender flare, get a ticket? Are your old flares missing? So how much rust is behind there anyway? Do any of these questions apply to your truck? What one item can correct all of the problems listed?
Trail Tough and  their Extended Fender Flares.  Samurai are really starting to show their age. After all, they have not been imported to the States since 1995. Don't know about your truck but the possibility of rust and missing flares is really a problem here in the great white north.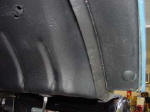 Stock Flare Mounting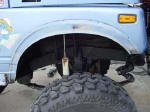 After removing the buttons from the underside of the stock flares you lift and pull the flare away from the body. That is, unless the last trail run did it for you.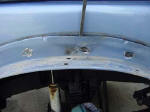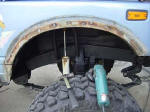 You can remove the mounting plate in several ways. You can buy a spot weld remover or like me you can carefully grind away the spot welds. I used a pry bar to pull the mount away from the body, then using a grinder I removed the spot welds.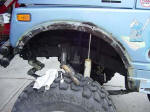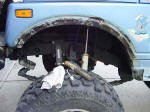 Oh man look at all the rust! Repair the rust, use your favorite body filler, then prime and paint.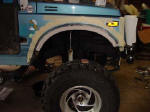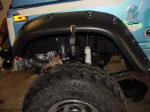 The kit is very complete. It comes with all the hardware to mount the new Bushwhacker Fender Flares to your Samurai. You may have to trim the bottom where the flare comes in contact with the stock trim.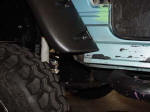 Component Source:
Trail Tough Products 1031 Narregan St Medford, OR   97501 1-877-SUZUKIS (789-8547)info@trailtough.com
08/11/2010 15:03