Click Here To Visit
with Drew Huber
The second annual Zuki South Zuks at Tellico was held on July 30 through August 1, 1999 at the Upper Tellico OHV Park. This year we had a total of 7 Zuks, 3 Toyotas, a Bronco and one Jeep along for the fun. Oh yeah, I forgot to mention that Yogi and Booboo the "Im just here for the picnic basket" bears made a visit as well! Our crazy group didnt mind the unexpected visitors but several other folks that were camping in the area did.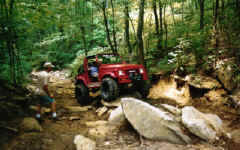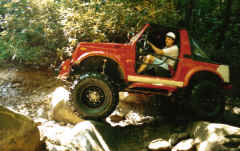 Thursday was spent pre-running to determine which trails to take over the weekend. Our small advance group included 2 Zuks, 2 Toyotas and 1 Bronco. We headed up trail 6 and connected with trail 7 to get a look at the "Wall". After seeing where it got its name, everybody decided not to try it and we headed back over to trail 9 also known as "Slickrock". This trail doesnt get its name from the same type of traction found in Moab but rather from just how darn slick this big rock ledge is. But as fate would have it a major thunderstorm descended upon us from out of nowhere! With lightning cracking all around, heavy rain and some large hail falling, our rag tag bunch headed for trail 5 and the creek crossing. This is not the easiest way out from where we were but it was the shortest. Trail 5 has several tough spots to conquer before reaching the creek crossing. With very little traction to be had we slipped and banged our way down to the creek. By the time we started to cross, the water had risen about a foot since had crossed upstream at Fains Ford. Good thing we were just about out of the woods cause we were soaked.
Later that afternoon back at camp Booboo made a quick appearance in the campground to sniff out food. Less than hour later Yogi himself came to the campsite but couldnt find my picnic basket! He didnt seem to mind all us crazy campers running around trying to take pictures of him. I just wish I could have gotten his autograph! It seems the bear have been real bad this year in the Cherokee National Forest. They have figured out how to open the garbage cans and get any table scrapes left by the campers. Earlier in the week a bear had even entered a couples tent looking for food they had inside. Nobody was hurt but I hear the tent had seen better days.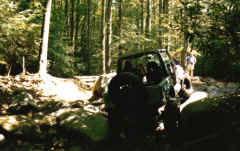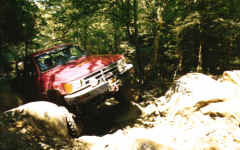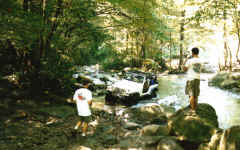 On Friday our group had grown to a total of 5 Zuks plus the 3 Toys, the Bronco and also a Jeep. We took trail 5 across the creek and headed for "Helicopter Pad". I have led several groups up Helicopter and have been with others as well. This trail can change from day to day. Everyone made it to the first major obstacle of the day without problems. I was first to attempt "Guardrail" and as every other attempt, I ended up on the string. Short wheelbase vehicles are at a disadvantage on this section of the trail. This is definitely one place you wouldnt want to roll. The small section of highway guardrail that has been put there seems like very little protection from going over a pretty nasty drop. Only the Bronco and 2 Yotas made the climb today without help. So with everyone safely at the top we headed on to "Helicopter Pad" itself.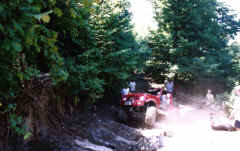 The "Pad" does have a bypass which when wet is almost impassable but when dry its a cakewalk. I was again first to attempt a run at the "Pad" I had tried it last year and had to take the cable. When I reached the steep off camber ledge, I got on the gas and hopped up past the rock and just about over the ledge when my Weber loaded up. Again it was not to be and out came the cable. When I reached the top I noticed I had not escaped the wrath of the "Rock". I had nearly lost my right rear fender flare and had a nice dent in the left rear quarter. Oh well, just a nice reminder of Tellico. Next to attempt the climb was Ben in the Bronco. Ben made it up last year with only a little body damage but things change. First thing to go was the radiator! Now the Bronco has lost all it coolant and repairs must be made before forward progression could continue. With all the great talent around, repairs were made and the Bronco fires up only to blow a front axle u-joint! Out comes the cable and a long winch session is now undertaken to retrieve the Bronco. After this much carnage, everyone else opts for the by-pass.
Once on top, more repairs are made to the Bronco and we head out taking the backside of 11 down. I had just cleared the extreme section dropping off of Helicopter when I hear over the radio that the Toyotas and the Bronco have decided to head down "Schoolbus". After warning them not to take that route, with no success, we agree to meet back up with them at the bottom of trail 12 (Schoolbus) and trail 3. For those who have never been to Tellico, from where we split up its only 2 miles down Schoolbus and about 6 miles around the way we went. Our group arrived at trail 12 around 6:30 P.M. and began our long wait on our fellow four wheelers. To make a very long story short, 2 out of the 3 rigs that started down trail 12 made it out a little after midnight! The Bronco was still on the mountain wrapped around a tree. A fast run down trail 4 onto trail 1 had us back at camp around 1:00 A.M. While we were sitting in the dark back out on the trail, Tim Justice had made it into camp as well as Travis Gaines. Travis had driven all the way from Tampa, FL and no Zuks were to be found! He finally spotted Tims Zuk and made camp close by. Man was he relieved to see us pull in, he thought it was only one other Zuk at Tellico.

08/11/10 15:28
[trails/footer.htm]