Click Here To Visit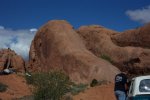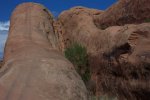 Lions Back is without a doubt the most well known spot in Moab. Not really a trail in the true sense of the word, more like a side diversion for those with a camera and $10 to burn to pay for an access across private land. Bob Gassert of Golden, Colorado decided to grab his camera and take a spin. Look closely at the right photo just above the tree line and below the rock climbers. There is a vehicle crashed there. Someone was not paying attention and went over the side. He lived to tell about it, hope he brought a spare set of pants. Explain that to the insurance company and/or wife! Checkout these Hi-Res Photos (dial up users beware) for true pucker power effect. Hi Res1, Hi Res2, Hi Res3, Hi Res4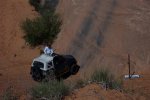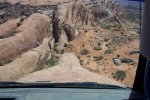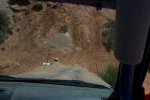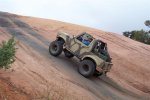 Launch Pad is found on the Golden Spike trail and is well known for its steep ascent angle. While it does not look all that steep in the left photo, take a look at the photo on the right provided by Ron Chase aka "Cap'n Ron", Los Angeles, California. Ron's photo gives you a real good visual clue how this spot came to be named.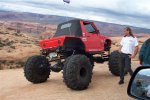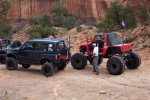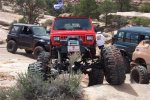 I met Jake Palmberg of BC, Canada driving his monster sized red Zuk with the 44″ tires while on the trail. At first I was concerned because he was ahead of me on long steep off camber inclines and his vehicle looked like it could fall over, roll back and just crush me. I mentioned this to him at lunch. He laughed and said because the weight of his four tires was actually greater then the weight of the body, drive train and people combined he was basically bottom heavy and could not roll over sideways or end over end. It just slides backwards. I think his top speed at 4500 rpm was 30 MPH. I noticed he does not carry a spare, maybe there is no air in the tires to escape?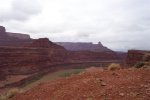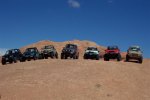 The people that participated again this year ranged from new Zuk owners that were just getting into the sport/hobby to the more hardcore enthusiasts that have been around awhile and show their dedication in a more permanent way. Some were new to the Moab experience, others had to have another helping of slip and slide. For all of you that made it to the ZukFari this year – Thanks for making it a huge success.  END.
08/11/10 15:39:16
[trails/footer.htm]