with Bill Johnston
Support Bra from ZOR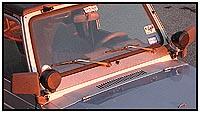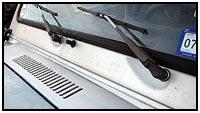 Over the years, there have been a few manufacturers that have looked at the need for a reinforcement plate for the lower section of the soft top Samurai windshield around the wipers. Zuks Off Road has taken it a step farther by using some beefy steel plate and enough brackets to take care of all your needs, even the ones you didn't know you had!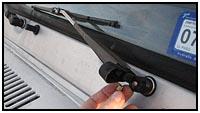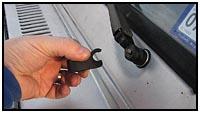 The installation of the Support Bra was simple after getting the wiper arms loose. The plastic covers come off easily, and then it's just a 10mm nut holding the arm in place. Be careful when removing the arm, as 20 years can make them want to stay put.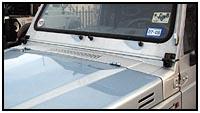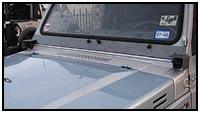 The Support Bra fits flat across the base of the windshield. Using the wiper lugs and the windshield washer spray nozzles as guides, center them in the holes provided. The area around the wiper lugs is very prone to rust, so this will protect and strengthen that area.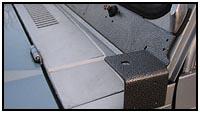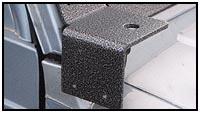 The ends of the Support Bra have integrated support brackets for offroad lights or antennas. They also have holes predrilled and tapped to accept your side mirrors using the stock screws to secure them. Moving the mirrors will allow you to remove the doors and still keep the mirrors in place.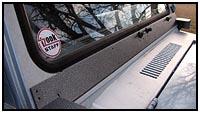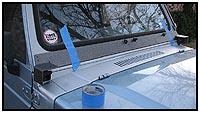 I found it much easier to keep everything in place by using masking tape on both ends to ensure the plate stayed in place as I got ready to bolt it down.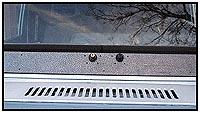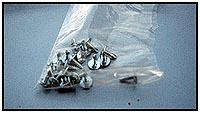 Ok, 'bolt it down' isn't exactly correct. ZOR includes a bag of self-tapping sheet metal screws to make the job easy. The holes are already drilled in the Support Bra, so using a cordless screwdriver it only took about five minutes to secure it in place. You can rivet into place also, but you have to supply the rivets.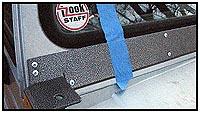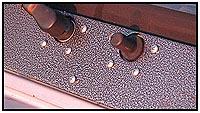 Remove the tape, replace the wiper arms, and you're done! The 'silver vein' powdercoating is a really nice touch. To seal the rust prone areas even more, you can use clear silicon behind the edges of the Support Bra to keep the moisture from hiding back there.
This is designed for use on the windshield of any year soft top Samurai. Although this was installed on a vehicle equipped with a fold down windshield, there is not enough clearance (with lights mounted) to actually lower the windshield and secure it to the hood. With the lights removed, the ends of the bracket just barely clears the hood when lowered.
The ZOR Support Bra has functionality, good looks and it answers a real need for the soft top Samurai owner.
Source:
ZUKS OFF ROAD 586 Azure Drive Camp Verde, AZ 86322 Sales (714) 488-2272 Info     (928) 567-3061  
08/11/10 14:59:07