Click Here To Visit
Essay Contest Winnerwith Rae Champoux Photos by Nick Sipes
Editors Note: After a gang of entries came in for the Essay Contest from last month, I took my time and read thru each and everyone of them and came up with a most deserving winner. Nick Sipes, known to a lot of us as Grumpy. Though I am not sure why he has adopted that for a nick name, Nick is a great guy who deserves some thanks for all he does. So thanks Nick for being the kind of guy who pays it forward!
I asked Nick to outline his truck so we could all get an idea of what he is wheeling now, plus it is always nice to see the laundry list of modifications that someone else has done to their rig, it can be used to justify further modifications that are needed to your significant others. Nick loves wheeling but that is a far second to his family. You will often find him on the trail with the whole family; wife Jessica, son Ethan, and daughter Trystan. So take a second to read up on Nick Sipes and the truck he calls the Phoenix.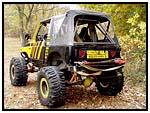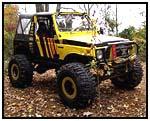 A little about the truck, it used to be Tommy McDowell's truck until it become totaled in a wreck after a day of wheeling with the Bedford Boys. I stepped up when the time was right to Tommy's needs and purchased it to aid in the purchase of his new Sammy. I completely reassembled it back to road worthy from the totaled wreck and a spare parts rig I already had in just 51 hours. Thats where the name "Resurrection" came from. From that point I wheeled it like it was stolen. Soon after, I began pushing the limits and began to break parts. After 2 axels and 3 sets of springs, a change was in order. Thats when I found the Wagoneer axels and springs for a dirt cheap price. Thus the rebirth again on this particular Samurai.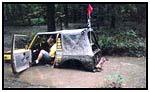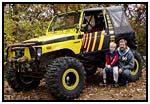 My Step sister came up with the name "Phoenix". It symbolizes the rebirth again and again of the truck. First was the Wagoneer axels and suspension. Then the 6.5:1 gears, H/D transfer case arms and track bar. Soon after the roll cage was added along with a few other goodies. I have done many upgrades and modifications to it and I am always doing more to it. Right now I am saving for some 4.88 gears, a spool for the rear and an ARB air locker for the front. Power steering is also on the shelf in the garage ready for installation. My best trail run was at the Melt this past year on Saturday. With some good friends, my son and I conquered the orange trail. A very good ride. I cannot wait until the next Orange trail run. IZook does a very good job with that gathering. I will also volunteer again next year, possibly as a trail guide on Friday or Saturday.
Motor, Transmission, Transfer case. 1.6 liter 8 valve using the CALMINI adapter plate. WEBBER Carburetor NAPA electric fuel pump THORLEY header ISKY mid range cam stock 5speed transmission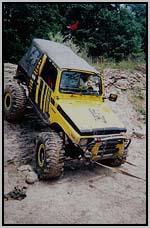 CENTERFORCE dual friction clutch stock Samurai transfer case with 6.5:1 CALMINI gears, the 2-low mod and a GRIZZLEYFAB.COM rock knob GRIZZLEYFAB.COM heavy duty transfer case arms w/poly mounts GRIZZLEYFAB.COM heavy duty transfer case skid plate GRIZZLEYFAB.COM custom tubed shorty transfer case frame mount Axels, tires, wheels, drive shafts DANA 44's front and rear from a 79' Wagoneer 3.07 axel gears custom steering link OLD MAN EMU steering stabilizer custom CHECKER RACING drive shafts 15x10 steel wheels ROCK4XFABRICATIONS bead lock kits installed by GRIZZLEYFAB.COM 35x16.5x15 Boggers
Suspension JEEP Wagoneer leaf springs in shackle reversal custom 4 pack front leafs and 4 pack rear leafs 31" long travel GABRIEL shocks GRIZZLEYFAB.COM lower rear shock mounts / upper front shock mounts BREEZE Ind. upper rear shock mount GRIZZLEYFAB.COM Traction bar 87" wheelbase ,79" outside front tires and the front springs are out boarded.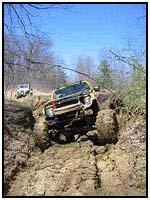 Interior and extra's GRIZZLEYFAB.COM 8 point roll cage Jazz racing seats on GRIZZLEYFAB.COM seat plate adapters RJH 5 point harnesses custom front and rear bumpers GRIZZLEYFAB.COM Rock knob made from a rock from the BADLANDS Rec. Park SUNPRO gauges Oil pressure, Oil temp, Amp, and tach Tilt meter Fire extinguisher Thumb throttle MIDLAND c/b Taillights integrated into the tailgate cd player in the glove box diamond plate door panels FARM ALL 48" hi lift jack 60' of mounted tow straps PORK BARREL line locks rock lights underneath the front and rear strobe lights trimmed body work to accommodate the tires during articulation GRIZZLEYFAB.COM lexan windshield kit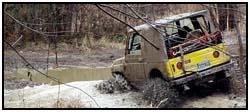 As you can tell from the very long list of modifications on his truck, Nick loves to turn a wrench! He is always fabricating something and is always willing to help out with some brainstorming cause he has an endless supply of great ideas. You can find Nick on the bulletin boards under the name Grumpy. Happy wheelin!
08/11/10 15:33:17
[trails/footer.htm]