Click Here To Visit
The Gatheringwith Bill Johnston Photos by Bill Johnston and Steve Schilling It started early on Saturday morning, the second day of the 2003 ZookiMelt. The long and winding line of Suzukis came through the registration area and continued on into the sand dunes. Lining up side by side and one behind the other, Samurai and Sidekick, Tracker and x90 (along with a few other guests) assembled together. 
During the weekend, drivers, passengers and vehicles would line up in small groups, assembling for the many levels of trails that were available. These trail rides have made strangers into acquaintances and acquaintances into friends. But this Saturday morning gathering was more than a dozen or so trail riders, it was by far the largest gathering of both vehicle and enthusiast over the whole event.
As the crowd grew the people mingled, looking over the other vehicles in the sea of Zooks. This was a great opportunity to see how others personalized their rigs. There were stock Zooks and tube buggies, SPOAs and SPUAs, coil conversions and air suspensions, and they all had proud owners that would explain the differences.
Thanks go out to all the participants and the enthusiasm and cooperation they showed that made the gathering more than just a huge cluster of 4x4s. We also extend a large salute to those volunteers that directed the mass of vehicles into the valley of sand. To the participant, it looked as if the volunteers that directed the traffic in had been doing it for years, very orderly and practiced. 
The decision to hold the photo gathering on Saturday morning was not an easy decision to make. A time had to be chosen when there were the most vehicles available at one location. This meant waiting until those participants that couldnt make it on Friday got registered and into the park Saturday morning. Unfortunately,
this meant that the there were some vehicles left back at the campground that had broken on Friday and hadnt been fixed yet. So although a huge group had gathered, this wasnt a complete picture of all the vehicles that made it to Attica this year. 
Keep an eye on iZook over the next few issues to see these vehicles as well as the rest as they played in the water, mud and rocks over this hot July weekend. Thanks again to all that made it, and I hope to see you again next year.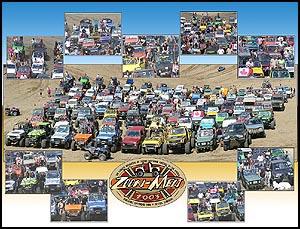 08/23/10 14:19:40
[trails/footer.htm]