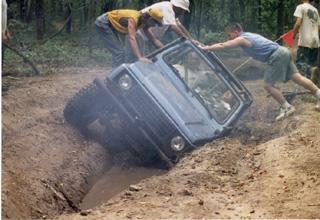 with Larry Harris pictures  Terrina Harris
Spidertrax Wheel Spacer Kit Installation
Tools and Parts Needed:
Jack and safety stands Socket set Lug wrench Wire brush Torque wrench Antiseize (recommended) Spidertrax Wheel Spacer Kits (Two)
Part 1: Installing the Wheel Spacer Kit.
1)  Find yourself  level ground to work on the wheel spacer installation. Engage the E-brake and chock the wheels to prevent the vehicle from moving in its parked position.
2. Loosen the lug nuts on one of the four tires you wish to install the wheel spacer. Jack this wheel up so you can remove the wheel from the vehicle.
3) Mount the wheel spacer onto the existing  wheel studs using the nuts provided with the kit. Make sure you have a clean surface. Tighten the lug nuts to 36.6 – 57.5 ft-lb [50 – 80 N]. To prevent the drum or rotor from turning when tightening the lug nuts, your best solution is to have someone apply the brakes. Do not mount more then one wheel spacer per wheel.
4) Now reassemble the tire to the new wheel spacer just as you would normally mount the tire. Use your existing lug nuts for this procedure. Tighten the lug nuts to 36.6-57.5 ft-lb [50-80 N].
5) Repeat steps 1 – 4 for the additional tires that will be running the wheel spacer.
Part 2: Checking for Interference
6) With your newly installed wheel spacers, turn the wheels through a complete cycle to check for and interference that may occur between the wheel and the chassis. Do not operate the vehicle if interference occurs.
Look for  this great product in our reviews section. (Coming soon)
08/11/10 15:11