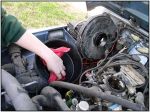 Tracker Nine Inch Suspension Up FrontWith Jim Mazzola 
Up Front:
The front is the most complicated and required the most components to design an extreme lift properly. The front suspension consists of front and rear A-arm brackets to drop the control arms down 9 inches.  The front axle was also lowered the same amount. There is very little engagement in the front axle inboard CV-joint bucket so increasing the travel of the front suspension would be limited.
The front springs remained stock but would have new mounts to lower them. I  wasn't about to give up the comfortable ride the factory designed in. The replacement springs provided with most lift kit are suitable for vehicles twice their weight. Caster, camber and bump steer were all considered in the front end geometry. I kept the caster in stock location and not adjustable. This was due to the fact as long as you have 'some positive' caster and you weren't doing any speedway type driving, slight difference in left to right would go unnoticed. The effects of negative caster on the other hand are poor steering wheel returnability and lack of overall vehicle stability. This is usually the downfall of most S.P.O.A. lifts. Camber and bump steer on the other hand have more significant effects on tire wear, vehicle stability, and overall predictability of the vehicles handling. 
I incorporated a camber adjustment into the strut tower extensions that allows for over 10 degrees of adjustment.  I addressed the bump steer problem by incorporating a secondary centerlink that allows the tie rods to remain near horizontal.  Relocating the steering gear box was an option that would have necessitated new steering shaft, a secondary universal joint, pillow block and some type of frame structure to mount both the box and the idler arm to. I rejected this idea due to its probable cost and complexity. I used front brake likes from the L.H. side which are over 30 inches long and provide ample length for the lift. Up in the engine compartment I incorporated a tower to tower strut brace to assure front end geometry would stay in line. I also had a bit of a problem with the front axle mount breaking off the housing. I'll have a story on that in a month or so. 
08/11/10 15:25