Click Here To Visit
Second Annual Turkey Run
With Jeff Pollock Pictures by Jeff Pollock and Jim Stopinski
After a great 2005 Thanksgiving it was time for our Second Annual Turkey Run near Brandenburg, KY, at Steve Birchlers secret testing facility, in other words, Steves farm. Steves farm is approximately 94 acres with a variety of terrain consisting of rocks, ravines, twisty creek beds and of course gooey mud. This year we had seven vehicles compared to the three vehicles we had in 2004. We had three Jeeps (two YJs and one CJ) and four Zooks. We were blessed this year with warmer than normal temperatures in the low 50s with cloudy skies with just a little drizzle here and there.
After a clear drive to the farm we began to unload the rigs when it began to drizzle which we knew would increase the difficulty of the challenges that awaited us. Luckily for us the drizzle quickly ceased and the clouds started to break so it looks to be a good day ahead of us, or so we thought.
We weaved down the trail through the trees towards the first challenge named Rock Road. It is a long ravine filled with all sizes of rocks that are usually moss covered and extremely slippery which can be run either direction uphill or downhill. We chose to run it uphill which definitely increases the difficulty of this obstacle. Generally this obstacle thins out the group quickly since someone always seems to break something here. Out of the seven rigs only four of us were willing to attempt the Rock Road and we knew if we broke it would be a short ride but then again this was one of the challenges we wanted to face. This year the moss was very limited but the fallen leaves made up for it by making it slippery but even more so by hiding the many crevices between the rocks.
Steve went first and worked his way up Rock Road until his left front tire fell into one of the many hidden crevices. After many a try Steve opted for the cable. The winch line was hooked and out he came. Steve then made quick work for the rest of Rock Road.
Next was Max Dollinger of MOAB Off Road of Kentucky in his well built 350 powered CJ-7. Max eased his rig onto Rock Road and then walked it up the trail without incident. Joe in his super light weight Zook buggy was next and he worked his zook through the Rock Road obstacle proving that narrowness is king on this section.
Finally it was my turn and I couldnt wait to attempt this obstacle this year after having issues with it the previous year where I was walking the Rock Road and fell and broke my right foot. It was my turn for revenge. It must have been my time caused I eased through the Rock Road except for one spot where I pointed my front-end skyward but with a slight reverse and turn of the tire I was moving forward again. The only catch here was that my right rear coil spring popped out and it took the lot of us to get it back in. After that it was smooth sailing and I made quick work of the Rock Road.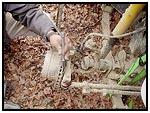 Once again we had to weave through the trees to get to the next challenge or should I say play area was the twisty creek bed. This is a great place to test your suspension and just have fun. As we preceded towards this area Marks right front tire on his YJ went parallel to the ground. Incredible, he had broken the lower ball joint on his Dana 44 axle. Max and Steve came to the rescue and got inventive and used a hand full of zip ties to re-secure the knuckle to the axle housing so Mark could get his YJ back to the staging area. Mark headed for the staging area and we preceded top the creek bed. Mark quickly caught back up and we began the run at the creek bed.
We dropped down into the creek bed and played around there twisting our suspensions and testing our maneuverability skills. There were a bunch of fallen tree branches that attacked our rigs as we meandered through this creek bed and one stick wedged between my shock and axle housing and bent my shock while another lanced Steves lower radiator hose causing radiator fluid to pour out of his zook.
Steve knew of few junk cars on his property so he ventured off to get another hose so we decided to play around on a few little climbs while we waited. After playing on the hill climbs we decided to try the excessively muddy V-rut which leads to the sink hole. This is a one-way obstacle where you drive in though the rut and then turn around in the sink hole and drive back out. Joe went in first and didnt get very far and backed out. I went next figuring the extra width of my zook would give me the advantage here.
I went in and was making great progress until it was pointed out to me that my right front tire wasnt pulling. At that point I should have backed out but I didnt cause I figured I could make it in three wheel drive since it has been progressing so easily, I was wrong, way wrong. I ended up wedging my zook in the rut and busting the left front axle due to the bind it was in, now I was stuck! Joe tried multiple times to extract me but I was stuck, S-T-U-C-K! Lucky for me Max and Steve returned and Max backed into the rut and we hooked the strap and finally were able to extract my rig.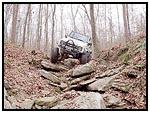 The group headed to next obstacle Three Creeks while Jim Stopinski followed me back to the staging area to drop my zook off.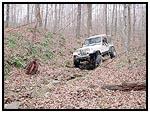 We rejoined the group to begin the assault on Three Creeks. This is a neat area where three rocky creek beds with some off camber spots converge into one. As with Rock Road, this obstacle can be run from either direction and is fun no matter which way you go at it. The five rigs left from our original seven proceeded to tackle Three Creeks. Everyone went down Three Creeks without a problem and Max decided that he wanted to run it uphill too so we watched as he played around.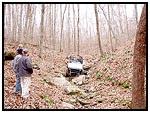 We decided to head for the hill climbs since the temperature was starting to fall and starting to lose sunlight. As we headed towards the climbs we noticed Jims right front wheel on his zook was getting wobbly.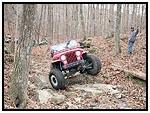 After we found some level ground we pulled the tire to see what was wrong and found that four of the six spindle bolts had sheared off of his Dana 30. Glad we stopped him when we did. We scavenged through our rigs to find nuts and bolts to re-attach the spindle and found some bolts that we could make work but they were not the bolts we preferred. It took longer than we expected to make the necessary repairs to Jims zook and now it was dark and the temperature was still dropping so we decided to head home and that concluded yet another joyous Turkey Run.
Special thanks to Steve Birchler for the great time and letting us wheel his farm, Max Dollinger for always lending a hand when someone broke and Jim Stopinski for taking so many great pictures.
More photos can be seen at Jim Stopinskis website under - 11/27/2005 Added new pictures from Steves farm:
http://www.projectsamurai.com/home.html
Moab Off Road of Kentucky 3812 Bishop Lane Louisville, KY 40218 (502) 962-8141www.moaboffroad.net
08/11/10 15:28:59
[trails/footerw.htm]