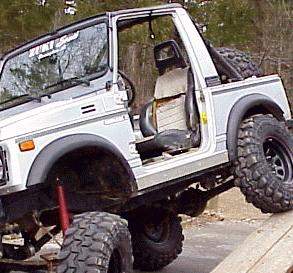 Bolt the extension case back into place and don't forget the reverse shift rim bolt that we pointed out earlier. Then we concentrate on the shift tower.
The shifter locating bolt is a commonly replaced item, as it is very prone to wear. There are two different sizes based on the model year of your transmission. You can see an example of each shifter to the right. The shifter on the left of the photo is a newer model, as it has the wider slot to accept a larger locating pin. On the right, you can see an older model that has also been outfitted with a new poly shifter 'sheet'. These replacement shifter sheets are available from many of the aftermarket distributors. Planning ahead, we got this one from North Coast Offroad during the ZookiMelt last year.
Here you can see the shifter tower after a cleanup and lube. A new locating bolt has been installed and because this is an older model shifter tower, we used the shifter handle with the new shifter sheet described above.
If your shift tower needs to be replaced, maybe the threads for the locating bolt are stripped out – or you have an older model and would like to take advantage of the larger diameter locating bolt of the newer model, you can get a complete tower kit from Hawk Strictly Suzuki. 
08/11/10 15:15:08