with Bill Johnston
The Cat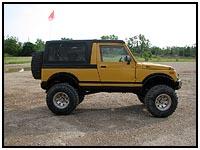 First looks can be deceiving (or maybe a bit amazing), No, it's not that Kevin got lucky and scored a 'hard to find' long wheelbase Samurai. Or that he got even luckier and found a factory lwb fiberglass top without any cracks or missing parts. How about the fact that it wasn't luck at all...
The key words here are more like skill, and ingenuity. The fact that Kevin started this project with a stock short wheelbase convertible and built a very trail worthy stretch - almost completely from scrap! Including the stretching of the fiberglass top. The level of work he put into this rig is not seen very often.
Starting at the rear bumper, you can see how he well he tucked a hand built crawler bumper into the design. The front was treated to another custom crawler bumper but this one is stuffed with a hydraulic winch!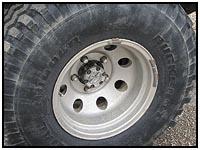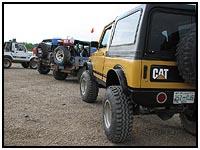 The PR78 Buckshot radials are wrapped around a set of Alcoa 10" aluminum rims. To make it a little easier to turn these tires, Kevin has installed power steering. The track on this rig is a little wider than normal. This is because he is now running a Dana 44 full floater rear axle. It also has 5.13:1 gears and a set of lockouts for towing. The rear has an Eaton electric locker and the front has a Lockrite automatic locker.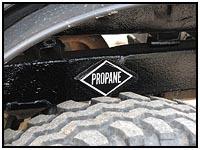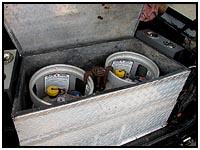 One thing that gives a hint that the frame was stretched is a pair of fish plates used to strengthen the joined section over the rear tires. This is also a hint as to how he powers the rig. There is what appears to be a storage box just inside the tailgate that doesn't contain parts or tools. He has two propane tanks stashed there.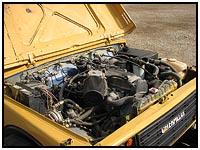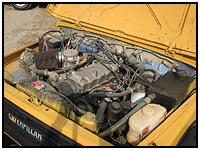 The 1.3 was changed out for the power of a 1.6. The engine now runs on clean propane. Yes folks. He built that too.
When you see Kevin on the trail, take a minute or two to look over his rig. You too, will be impressed. Good Job Kevin.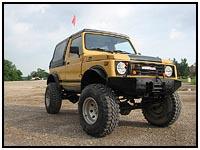 Built By: Kevin R. Shrum Tracy, TN
08/11/10 14:08